What is Sociology Master's Program?
The Sociology Master's Program at Üsküdar University is a postgraduate thesis program that is affiliated with the Graduate School of Social Sciences and offers specialization in the field of sociology.
The program provides an academic competence in terms of theoretical and field research within the broad scope of sociology and provides students specialization in line with their interests. The main objective of the program is to provide students with an in-depth understanding of the links between sociology and other social sciences and develop interactions between them with practical skills.
The importance of the discipline of sociology is increasing each day in terms of understanding, debating and producing information about rapidly changing and transforming social conditions and realities. For this reason, it is a crucial social advantage to educate individuals who specialize in sociology. With the master's degree in Sociology, students can progress within the academy and realize their specialization of sociology in various fields of study.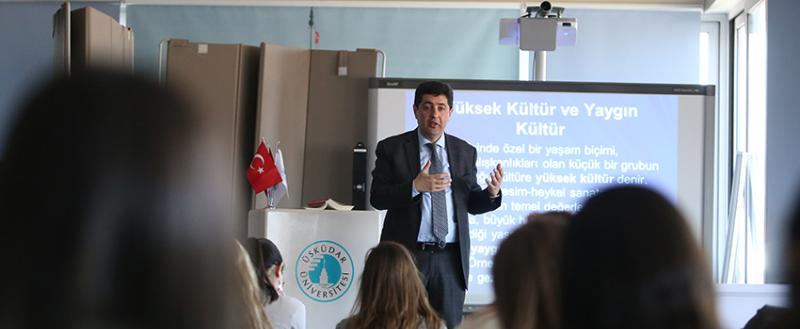 Which Courses Are Taken in Sociology Master's Degree?
The courses offered by the Sociology Master's Program in Sociology are carefully selected in order to deepen the sociological knowledge. Contemporary sociological theories, critical theory, political sociology, sociology of culture, sociology of knowledge, sociology of art, sociology such as gender in the broad and basic areas of the course, along with the desired subject and areas of interest in the fields of sociology and specific topics are offered. Interdisciplinarity, which is of great importance in every sense in the world today, is an integral part of the educational content of the master's program in sociology. In this respect, when a student graduates from the master's program in sociology, he / she will have both basic knowledge and competence towards his / her own goal.
Who can Apply to Sociology Master's Program?
Anyone with sociology and another social sciences degree can apply to Üsküdar University Sociology Master's Program.
What are the Job Opportunities Sociology Master's Program?
The Sociology Master's Program is a requirement for students aiming for academic careers. Students who wish to become academicians, take important step towards their academic careers by discovering their own interests and gaining a deeper accumulation in line with their interests during the graduate program of sociology. Sociology graduate students can also work in governmental institutions, private institutions and non-governmental organizations. Research, communication, copywriting, advertising, publishing, human resources and public relations are among the fields where graduate students can find work opportunities.