Civilization Studies originating from Turkey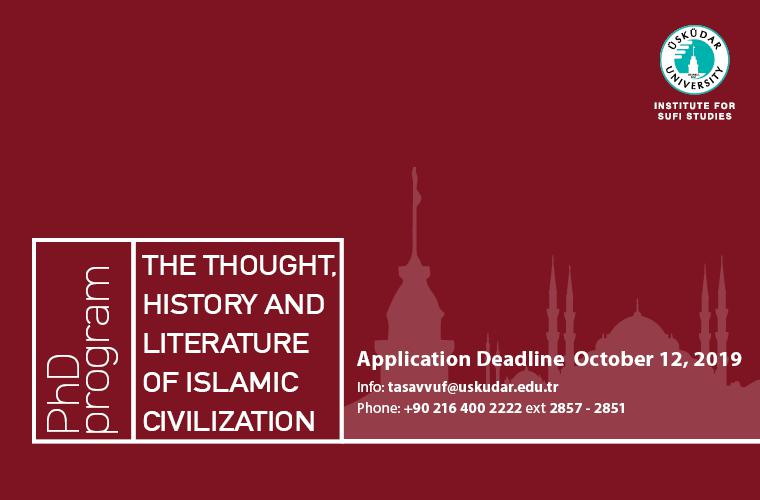 The PhD Program in the History, Thought and Literature of Islamic Civilization established within the Institute for Sufi Studies at Üsküdar University presents an important opportunity for those who want to pursue academic studies in this field. The director of the Institute for Sufi Studies, Prof. Elif Erhan, noted that the program aimed to contribute to cultural studies originating from Turkey.
Prof. Elif Erhan also added that scientific research and studies were quickly surpassing the understanding of "occupational focus" and that many disciplines were becoming more integrated with religious studies and religious studies methodology.
"Islamic Civilization will be considered through an interdisciplinary perspective"
Prof. Erhan remarked that in addition to fundamental Islamic sciences, the field of Sufism has a wide cultural interest ranging from music to painting, literature to philosophy, history to sociology, political philosophy to architectural and popular culture. Prof. Erhan stated, "There is a need for interdisciplinary graduate programs not only to protect the values that have been distilled from the thousands of years of Islamic civilization, but also to ensure that it is lived and benefited from, that it infuses with the tissue of daily life and that it contributes more to our cultural and scientific world without the limitations of occupational formation. The Institute for Sufi Studies at Üsküdar University has established the PhD Program in the History, Thought and Literature of Islamic Civilization with this purpose in mind. The academic staff of the Institute for Sufi Studies is composed entirely of experts that are employed within its structure."
The aim is to conduct civilization studies originating from Turkey
Explaining that the content of the PhD Program in the History, Thought and Literature of Islamic Civilization had been formulated through establishing relations with the various disciplines of social studies and humanities, with the topics of history and literature of Islamic civilization at the forefront, Prof. Erhan stated, "The aim with these programs is to contribute to civilization studies originating from Turkey. When considered carefully, it is observed that every study done on culture and civilization in this geography has to apply to the area of Sufism. Research on Sufism also presents new perspectives to those interested in sociology and human psychology. The training given by the Institute within the context of the MA in Sufi Culture and Literature has been further enriched in the PhD Program in the History, Thought and Literature of Islamic Civilization in a way that will provide academic opportunities in greater depth."
"Significant contribution to academic studies will be made"
Explaining that our country has fallen academically behind the studies done in the West and Far East in fields such as Area Studies, Religious Studies, and Civilization Studies, Prof. Erhan stated that "this PhD program also aims to contribute to the development of these fields in our country."
"There are only a few PhD programs in the main fields"
Noting that there are almost no independent interdisciplinary PhD programs on main fields such as literature, history, religious studies, anthropology and psychology in our country, Prof. Erhan added that, "In considerations of societal questions and problems, cultural identity, and gender-related issues, the main references are international sources. There is also a lack of comparative civilization studies."
The aim is to increase qualitative studies
Recording that the aim is to increase the number of qualitative and interdisciplinary studies done on manuscripts and primary sources supported by language studies in Ottoman Turkish, Arabic and Farsi, Prof. Erhan added, "One of the specific aims of the Institute for Sufi Studies is to increase international awareness of works that have been written in the cultural geography of the Seljukids and Ottomans. For this reason, the Institute for Sufi Studies is also engaging in efforts to improve English writing and speaking skills."
"Projects originating from our country will be produced"
Prof. Elif Erhan remarked that international students and academicians working in the field of Religious Studies and Islamic Studies showed great interest in the graduate studies being carried out at the Institute. Prof. Erhan noted, "The PhD Program in the History, Thought and Literature of Islamic Civilization, alongside our Institute's academic staff that are employed specifically for this purpose, will provide interdisciplinary areas of study that will create international-level academic studies and projects originating from our country in the environment presented by the Behavioral Health and Sciences-theme based Üsküdar University, where the fields of 'Psychology, Philosophy, History, Health, Genetics, and Engineering' are unified."
Üsküdar News Agency (ÜNA)