Remarkable experiences of Erasmus students!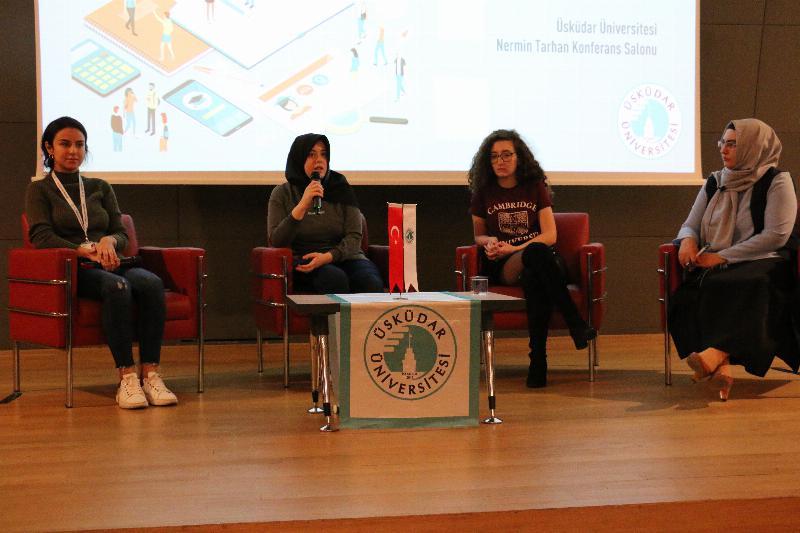 Üsküdar University Erasmus students shared their remarkable experiences with other students in the event "The Unknowns about Erasmus", moderated by Department Head of Bioengineering Tuğba Sevimoğlu. The various experiences of Erasmus students include sending internship related emails for hundreds of times and Skype interviews.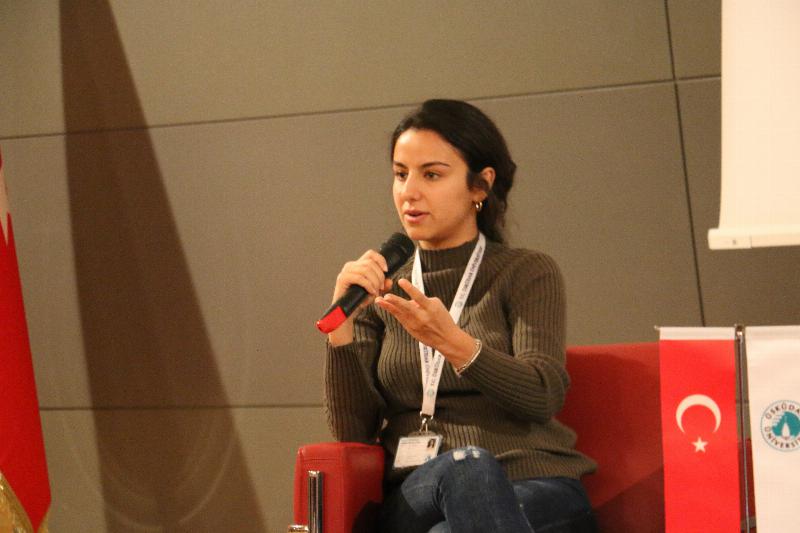 In the event organized in Nermin Tarhan Conference Hall, Main Campus, the students who received education or internship in Europe shared their experiences with the students that are eager to study abroad. The first speaker of the event was Betül Nur Konuk who is also Erasmus specialist in Directorate of International Office. Betül Nur Konuk informed about how to receive an internship from abroad, GPA, Erasmus, internship opportunities and the criteria. Konuk also talked about the education, internship periods and emphasized that the amount of grant varies on the country.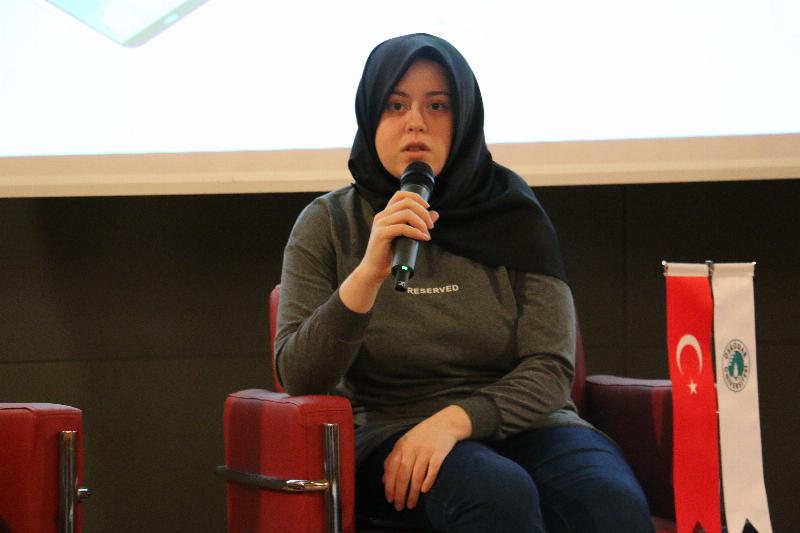 The 4
th
grade student of Bioengineering Department Elif Özdemir shared her experiences in Berlin in the scope of her Erasmus internship and education.
Email sent to 200 people for an internship
Özdemir explained that it is not easy to find an internship and continued, "Your first applications may be denied, this is quite normal. It is not easy to find internship opportunities. Keep on trying until you make it. You will be eventually accepted from a college. I emailed 200 people in order to get an internship. You will make it if you try." She gave information about her experiences at Berlin Freie University.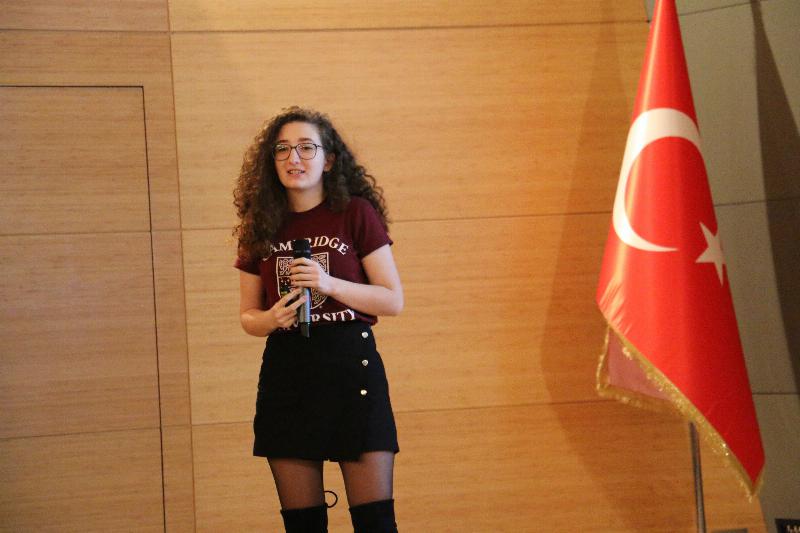 The road to Cambridge is through Skype!
The 3
rd
grade student of Bioengineering Department Ebru Destan shared the internship experiences she had in Cambridge University. Destan said, "I have applied to some many different colleges until I received an acceptance from Cambridge. What is important is to know what you really want to achieve and specifically explain your field. Destan said that during this period, she went through different interviews and one included a Skype interview and gave hints about accommodation and travel opportunities.
After the speech, bioengineering students Intesar Aldweri and Yaren Yeşim Yavuz delivered their presentations.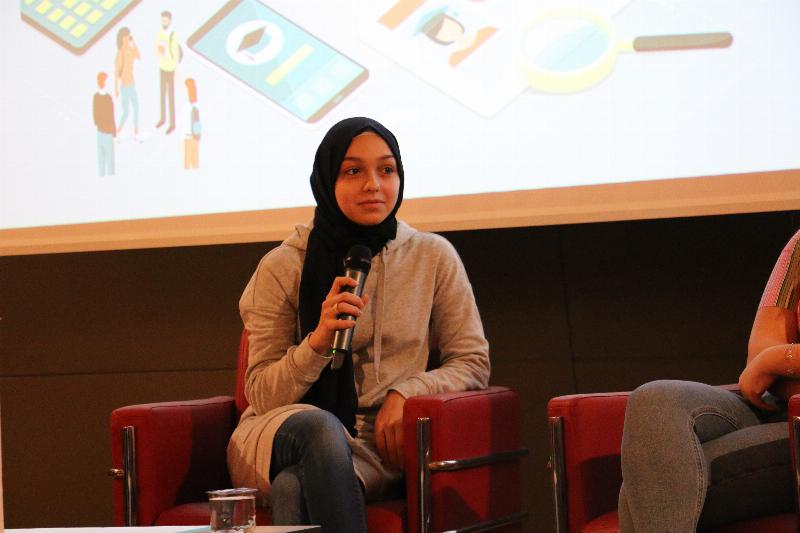 "I did Erasmus internship at my own country"
Intesar Aldweri who is an international student in Turkey did the Erasmus internship at the home country, Saudi Arabia. Aldweri said that this opportunity had many advantages.
Ferzan Betül Berber ve Mehmet Yunus Çomar who went abroad for a semester explained the entertaining part as well as the difficulties.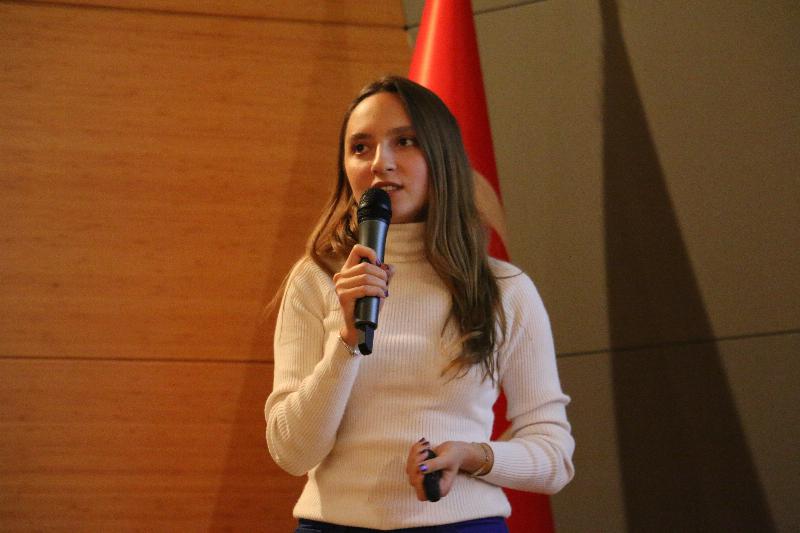 "We visited 14 countries and 24 cities in one semester"
The 4
th
grade bioengineering student Ferzan Betül Berber and the 3
rd
grade Molecular Biology and Genetics student Mehmet Yunus Çomar said that they attended the same college and had the opportunity to participate in the same activities. Berber continued, "The most entertaining and memorable time in Erasmus is the quality of time spent there. We went there for travel purposes and we achieve it. We visited 14 countries and 24 cities in one semester together with friends."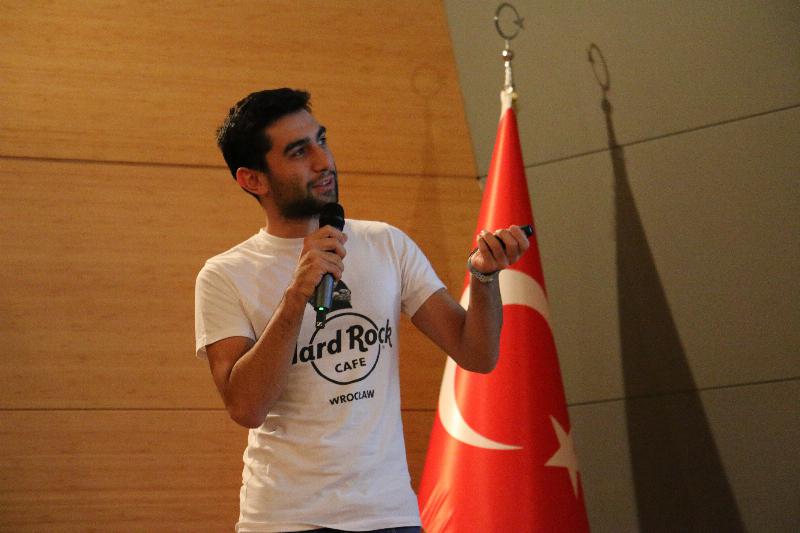 They waived their food money to go on trips
Berber and Çomar shared the importance of visiting different countries and experience various cultures aside from education. They said that they waived their food money to go on trips as they brought their food to school from their homes.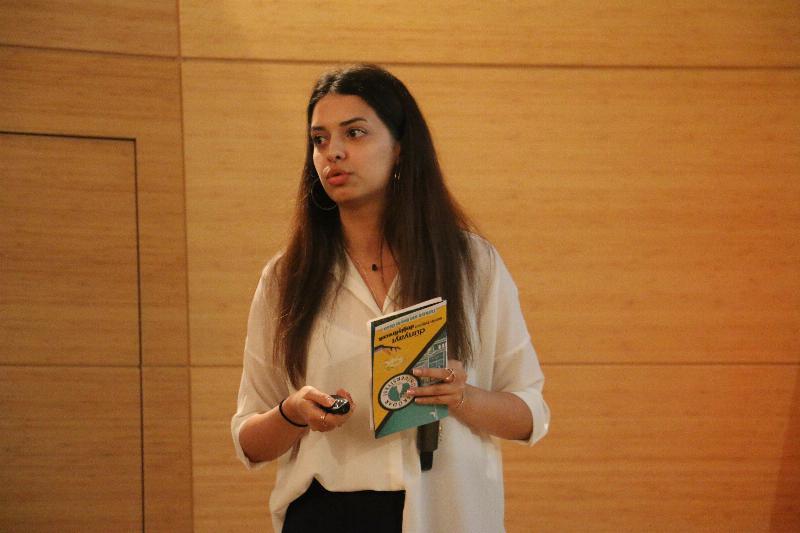 "No one speaks perfect English"
The 3
rd
grade Bioengineering student Hilal Yüksel shared her Erasmus experiences in Sweden. Yüksel firstly touched on the language issue as she continued her speech:
"Everyone is scared of not being able to speak English and therefore are hesitant to apply for such opportunities. However, never forget that no one speaks perfect English. You can interact with people once you give some effort into it. I did a Skype interview with my consulting teacher when I was accepted. I explained in that interview that I was inexperienced and yet very open to learning. They invited me for an internship and I learned the material at the internship."
Üsküdar News Agency (ÜNA)