"SKS ÜNİ LIFE" journal met with its readers with the first issue in 2 languages
Üsküdar University Department of Health, Culture and Sports continues to break new ground. "SKS ÜNİ LIFE" journal, published with the support of Üsküdar University Health Culture and Sports Department, met with its readers. The journal, which includes the activities of the student clubs operating within Üsküdar University and the latest developments in sports clubs, draws attention with its rich content, and gains the appreciation of its readers from the first day.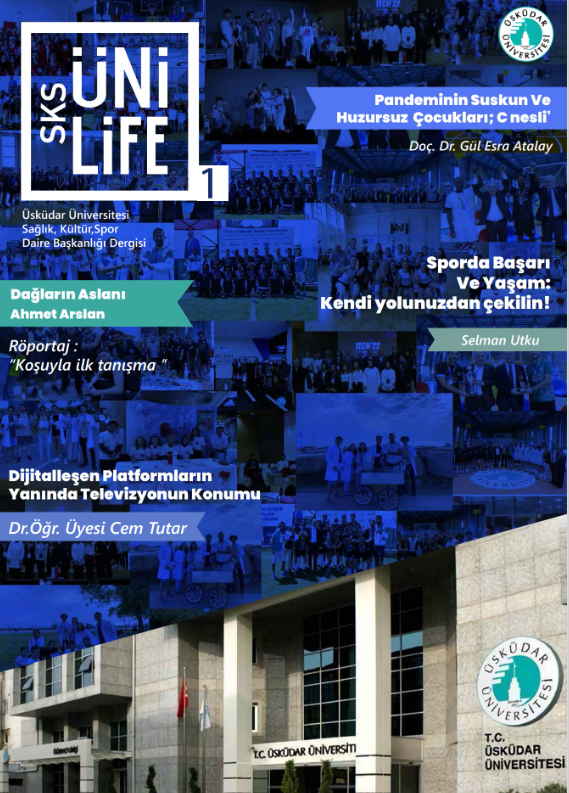 The first of the quarterly "SKS ÜNİ LIFE" journal by SKS, has been released digitally in two languages as Turkish and English. Özcan Demir, Head of Üsküdar University Health, Culture and Sports Department, is the editor of the journal. President of Üsküdar University, Psychiatrist Prof. Nevzat Tarhan also wrote a special article for the first issue of the journal.
In his article for the first issue of the journal, Tarhan expressed following statements:
Healthy body only exists in a sound mind!
"The new information that neuroscience offers us is that the human body is the state and the human brain is the government. In other words, mental health is both the cause and the result of physical health. A person who manages their brain well manages their body well. Sports and physical exercises are an area that positively affects our mental health. Sport is also used as a method of reducing stress in people who are coded to move.
The effect of movement is known to reduce the heart diseases and some other diseases. Regular and balanced sports are known to contribute to emotional discharge, calmness, comfort and relaxation of the mind as well as physical health. It is considered an occupational therapy.
If sports or other exercises are done with pleasure without competing with someone or yourself, it contributes to mind and health. Fitness and vigor at the end of the sport show that the sport is beneficial.
Western scientists carry out major research projects to make people both wealthy and happy. For instance, the USA Morristown Center for Stress Diagnosis and Treatment, Director Dr. William Rosenblatt summarized the results of long researchin his study: 'Married people are exposed to less stress than singles, those who have a balanced diet than those who have malnutrition, those who do not drink and smoke are less exposed to stress than smokers and alcoholics, and those who do sports are less exposed to stress than sluggish people.'.
Personality and character strength are very important in sports
Strong personality and strong character are important in sports. We know that there is a great effort and endeavor behind the success of sports. As it is always said in sports, 'A sound mind exists in a healthy body', we can say that the opposite is true as well, 'A healthy body exists in a sound mind.'. One cannot be successful in sports that are not strong in mind. It is quite possible to show hundreds of examples of that. No matter which field you look at in a successful sports field, whether it is an individual or a team, it is seen that that an athlete or team has a sound mind. I must say that Üsküdar University has the same principle in its success in the field of sports.
That's why in sports, the strength of personality and character is important. Team spirit is important, as well… Being excited about the same thing and giving the same reactions are equally important.
Once, we met with officials from the National Team as part of a study. We brainstormed on how to provide focus training to athletes. We had a lot of discussion about the negative cheering and discourse which negatively affect the athletes and cause losing their focus. Here, in such situations, it is important for a person to focus on the target and this is only possible by putting their feelings to the work they are doing. Just playing with logic is different, it is very different to do it by attributing a high value and meaning to what they do. The feeling of being a national athlete or team, the love of the country affects a lot.
If there is no sustainable character, success is not constant!
The gains of sports on one's character are also undeniable. The sound character of the athlete is important in the continuity of success. If a person does not have a sustainable character trait, success will come and go, like a flash in the pan. My biggest advice to those who are engaged in sports for professional, hobby or health purposes, it is very important that you combine all these with the endurance training you have learned here, focusing on the target, determining your purpose and putting meaning to the sport for the success to be permanent.
While I wish the first issue of our SKS ÜNİ LIFE magazine to be good for our university, I would like to say once again that I wholeheartedly support all sports branches of Üsküdar University, our athletes and our managers who are devoted to sports.
Stay healthy, stay active…".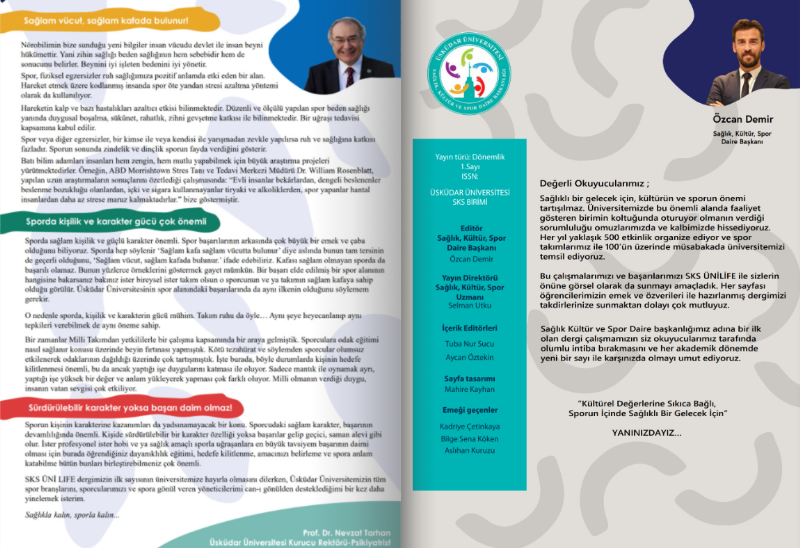 There are book and film recommendations and exclusive interviews…
The journal, which gained the appreciation of the readers with its first issue, also covers book and film recommendations, book reviews, student clubs, exclusive interviews and articles by experts and academicians in their fields.
The highlights of this issue are as follows;
Asst. Prof. Cem Tutar; "The Position of Television Next to Digitizing Platforms"
Assoc. Prof. Rose Esra Atalay; "Silent and Restless Children of the Pandemic; Generation C"
Please Click to Read the SKS ÜNİ Life Journal.
Üsküdar News Agency (ÜNA)