White coat ceremony was held in the Faculty of Dentistry
A white coat ceremony was held of the first-year students of the Faculty of Dentistry at Üsküdar University. In the ceremony where students' parents also attended, President of Üsküdar University Prof. Nevzat Tarhan by addressing students said: "To be a good Dentist, you must be 50% Psychologist.".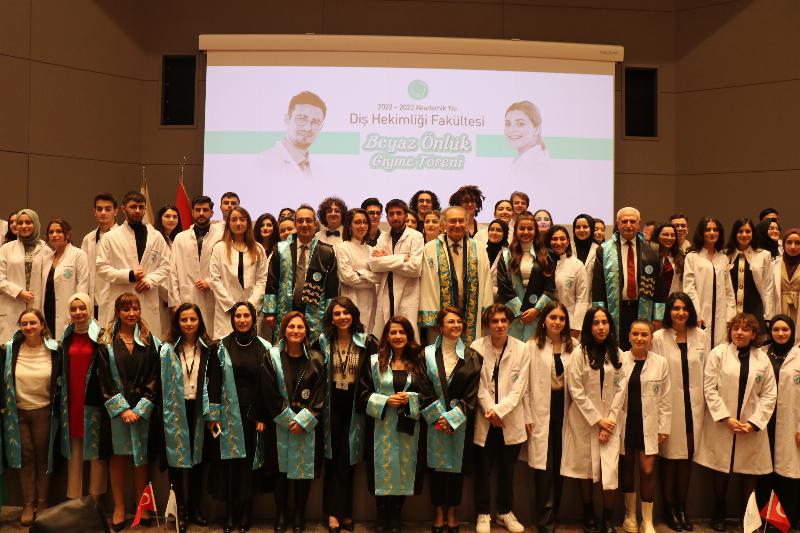 In the ceremony held at İbn-i Sina Auditorium in Üsküdar University NP Dentistry and Health Campus, all of the faculty members within the Faculty of Dentistry participated. Students' parents also showed great interest at the program and enjoyable moments were experiences during students' White coat ceremony with their loved ones.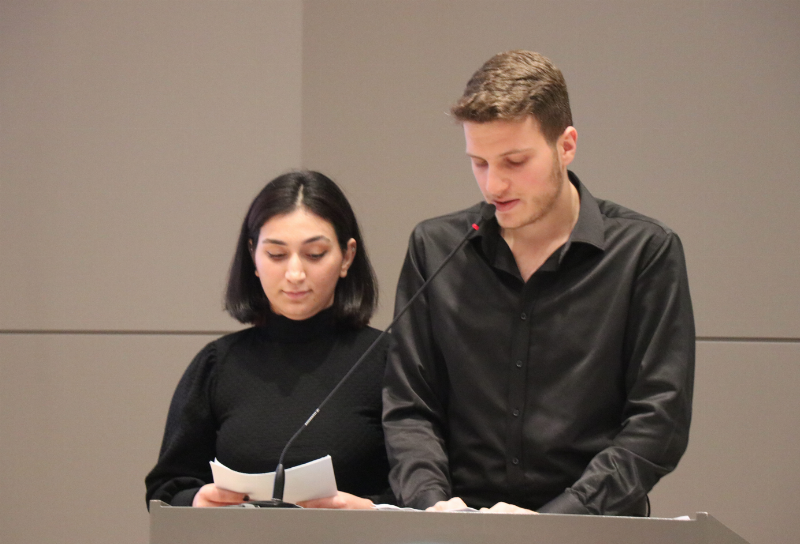 Dilan Çayır: "We thank our families who made all sorts of sacrifice for us"
The ceremony that parents participated greatly began with the opening speech by Dilan Çayır and Batuhan Yanoğlu who are students of the Faculty of Dentistry. Çayır said: "I greet our dear parents who worked hard day and night for me and my fellow student friends to be successful, and our professors who worked for our development, with my love and respect.".
Batuhan Yanoğlu: "We strive for being a good physician"
First-year student Batuhan Yanoğlu, who is a student at Üsküdar University Faculty of Dentistry, said: "Dear families and professors, please do have no doubt that we study to complete our faculty with all our efforts to return your labor for us. We will perform our profession by being obliged to all of the professional ethics that we have learned here during our professional lives, and our esteemed professors' experience will guide us.".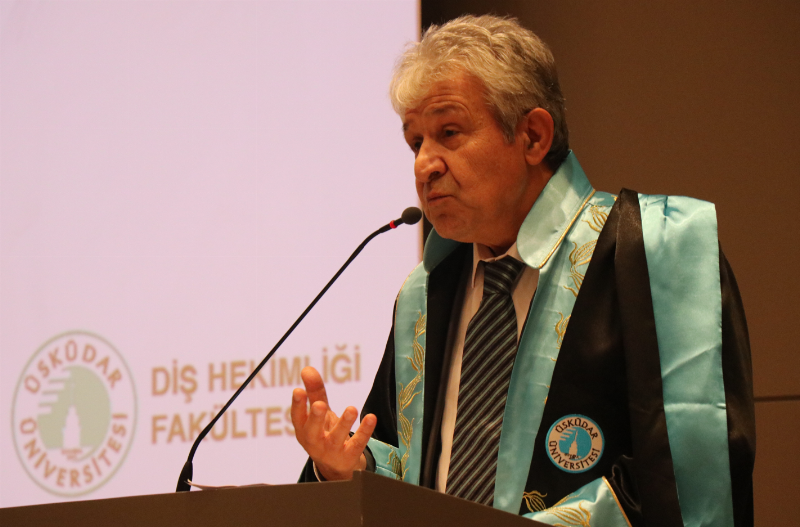 Prof. Yumuşhan Güney: "The meaning of medicine also including making the right decision and having an ethical attitude, as well as the meaning of spreading cure"
Üsküdar University Dentistry Faculty Dean Prof. Yumuşhan went up to the rostrum within the scope of opening remarks. Highlighting the importance and meaning of the white coat that students are wearing for the first time, Günay said: "From now on, all human beings, elders, women, men, from the west to the east… All of them will be your friend and brother. All people will expect this from you, as well. They will see you like this because you will touch people's lives, and you will be a family member for them, you will enter their privacy. Without a doubt, this is a stunning embracement and it is an embracement that not every profession or discipline can have. Well, undoubtedly, all of these requires a hardworking study. These challenges will not be only due to the nature of being a physician. Besides being an excellent physician, we will try to understand the age, life and human. We will do this with a great care because the meaning of medicine also including making the right decision and having an ethical attitude, as well as the meaning of spreading cure. This is a common value not in our archaic traditions but also in all archaic traditions. Our students' path that leads to happiness will be illuminated with our ethical sensitivity, ethical attitude. This attitude will protect our sensitive hearts. If a person whose heart is corrupted, also have a brain that is corrupted. A person with corrupted heart and brain, performs medicine, this could be one of the biggest calamities that humanity will experience. Happiness can only nest in protected hearts.".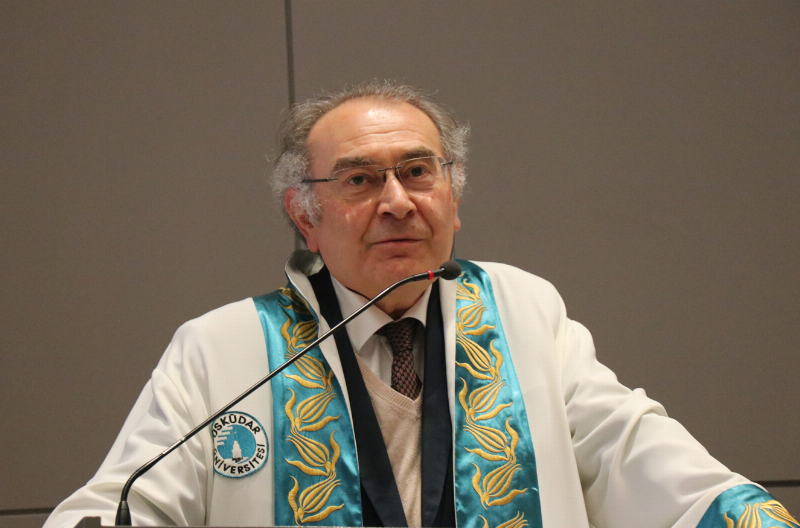 Prof. Dr. Nevzat Tarhan: "You cannot perform this profession if you do not like to help"
President of Üsküdar University Prof. Nevzat Tarhan pointed out the importance of the relationship between physician and patient in the Dentistry in his speech at the ceremony.
"You have come to a challenging education like Dentistry. Firstly, I do want not to scare you. However, the importance of the relationship between physician and patient come into prominence more in the dentistry. Well, you must be a 50% psychologist. You know the perception about the seat of the dentist. You know that people fear going to dentists. You can only do that treatment complete if you can manage it well. That's why we have added positive psychology course. Positive Psychology Communication Skills course. In that course, there are many skills, such as empathy, stress management, anger managements, self-concisions, knowing yourself, knowing the other party, sharing. These will be very useful for you. Therefore, I, firstly, advise that you should keep this in your mind at the beginning of your profession. The white coat represents innocence. It symbolizes doing your job well. It is profession with a high professional responsibility. You are working with human health; no other people can do that. Being hard worker is not enough. You should have a good personality. You are performing a profession to help people. If you do not like to help people, you cannot perform this profession. To help, to deal with people with problems, to listen complaint of them, it is a profession like that. Therefore, you already know that it is very important to eliminate the pain in the dentistry. That's why, only intelligence, emotion and heart are not enough. A balance of them is important; however, you must have intention for that. Thus, if there is a good thing, a good effort, a good intention awakes following that. When a good intention awakes, a person starts to meet their needs. I wish success to the youth. Congratulations.".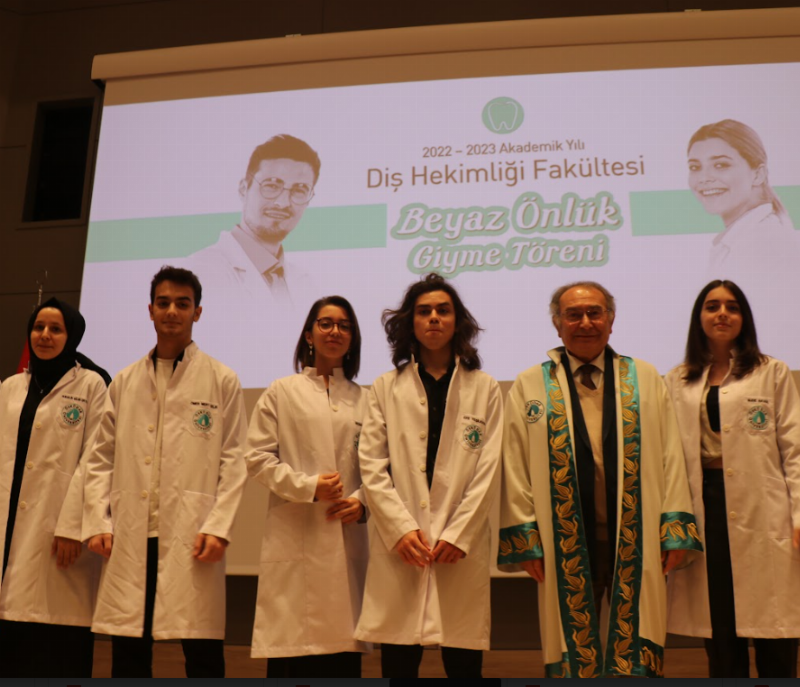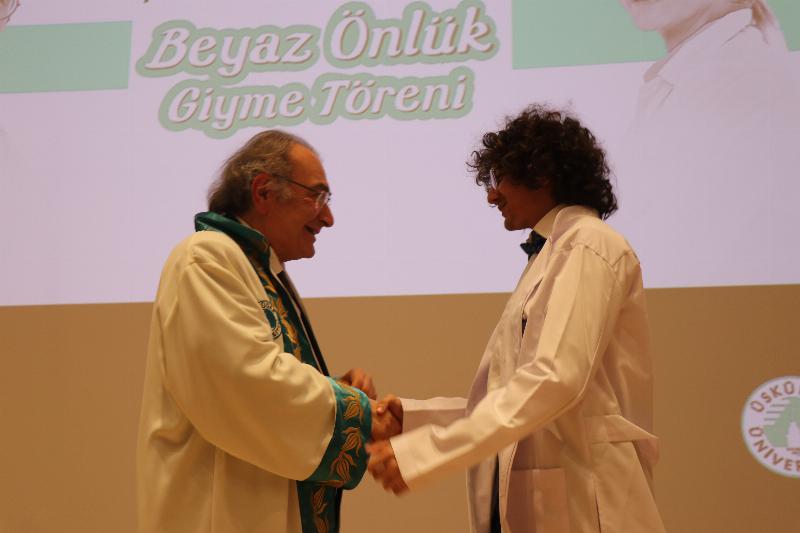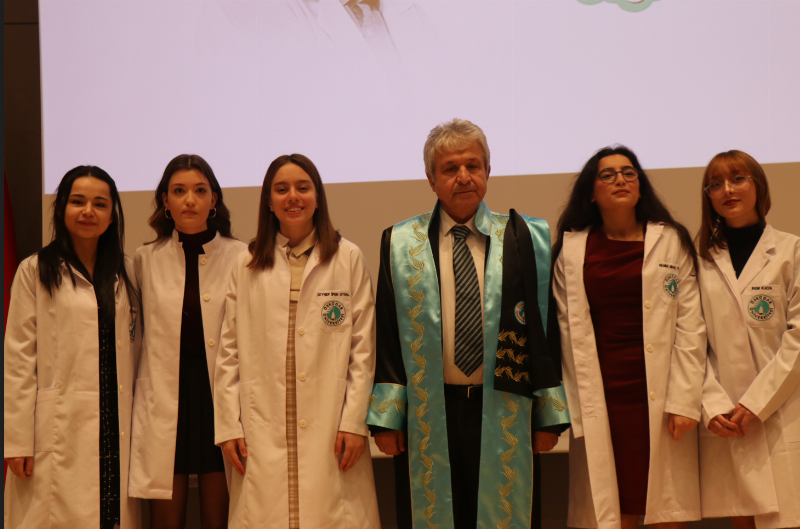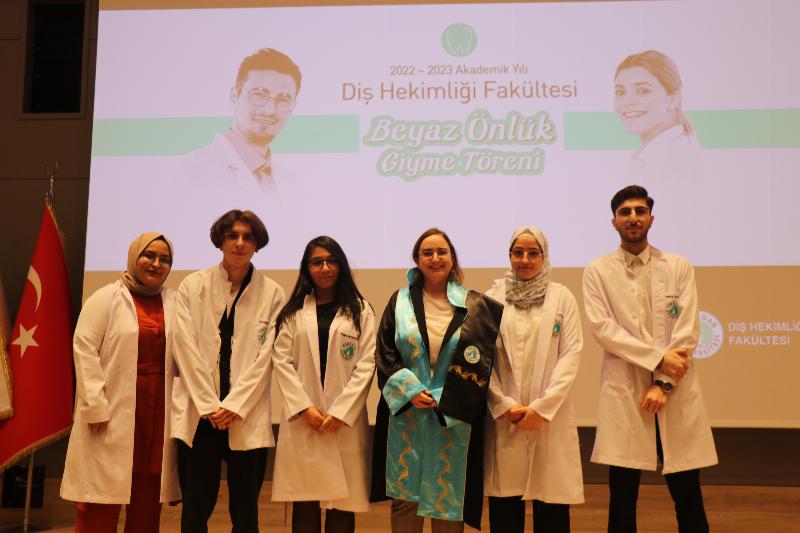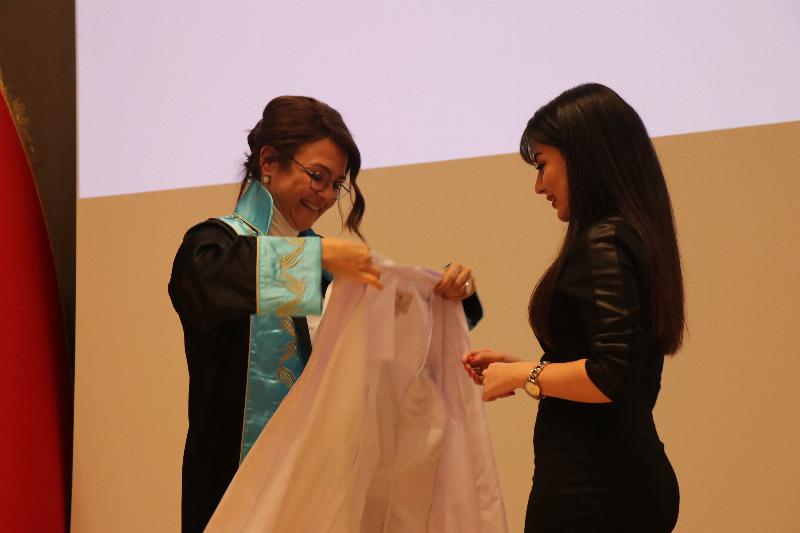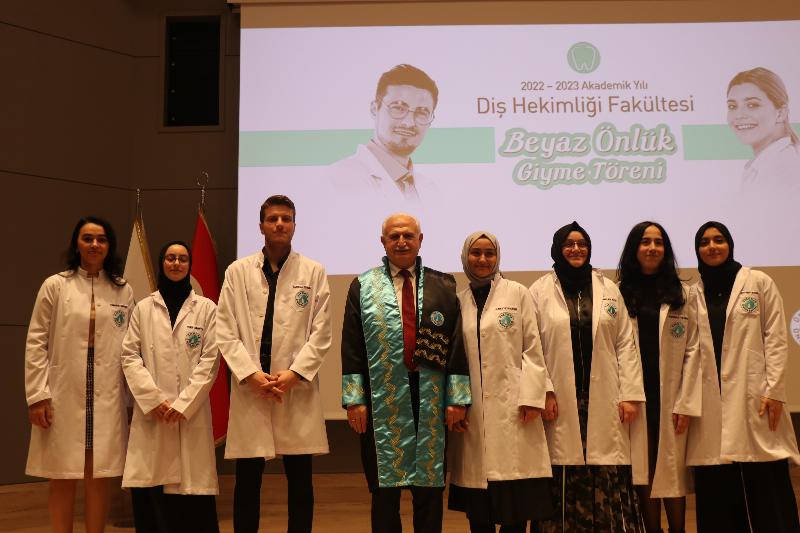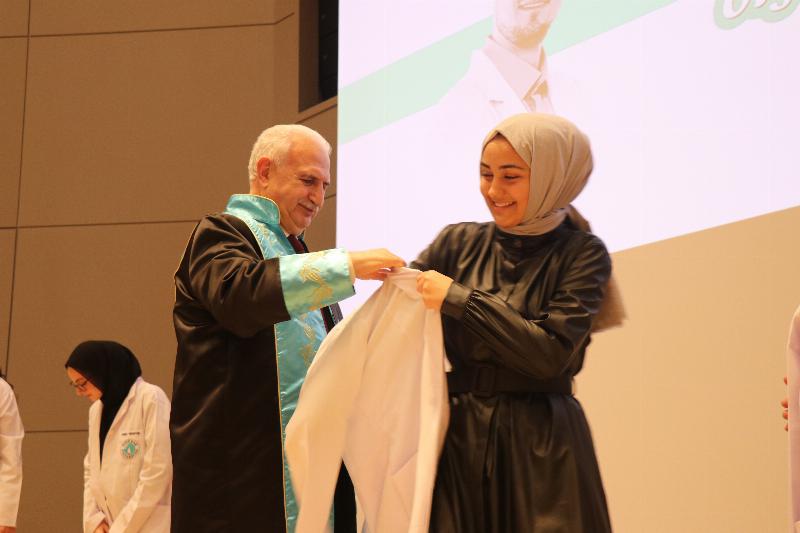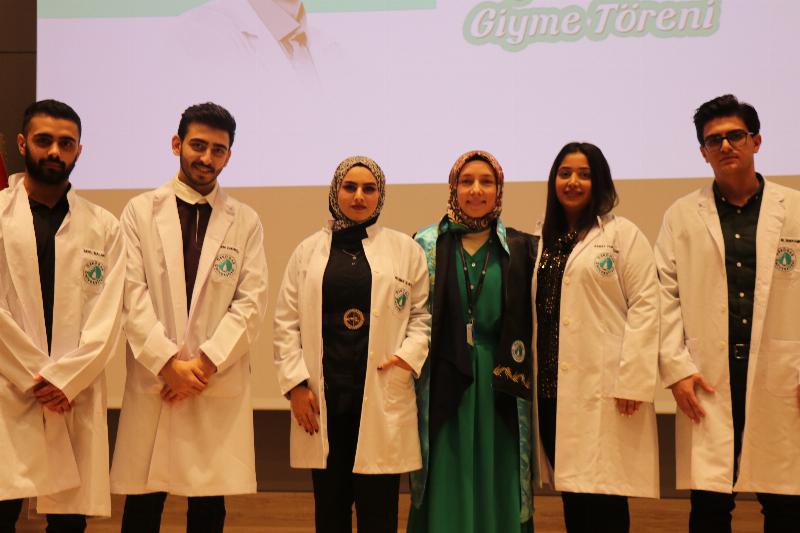 The music concert raptured the guests…
In the White coat ceremony, first year students of the Faculty of Dentistry Ömer Tozlu, Esmanur Yüce, Sena Ateş, Beyza Kaya, Damla Nalbant, Muhammet Süleyman Yaman, Raşit Hasanov and Hazem Dahrau performed a music concert and they received a standing ovation by the participants.
Especially President Prof. Nevzat Tarhan, Vice Rector and Head of Cardiovascular Department within the Faculty of Medicine Prof. Hilmek Koçak, Dean of the Faculty of Dentistry Prof. Yumuşhan Günay, academic personnel attire students with the white coat.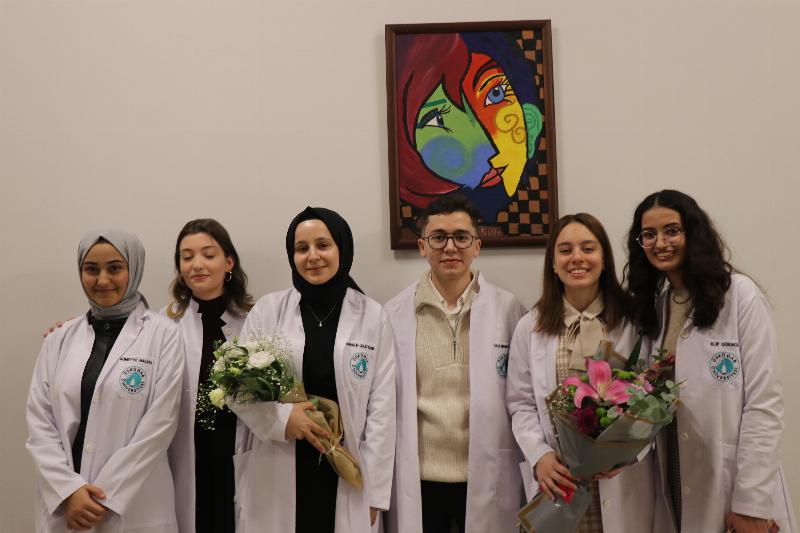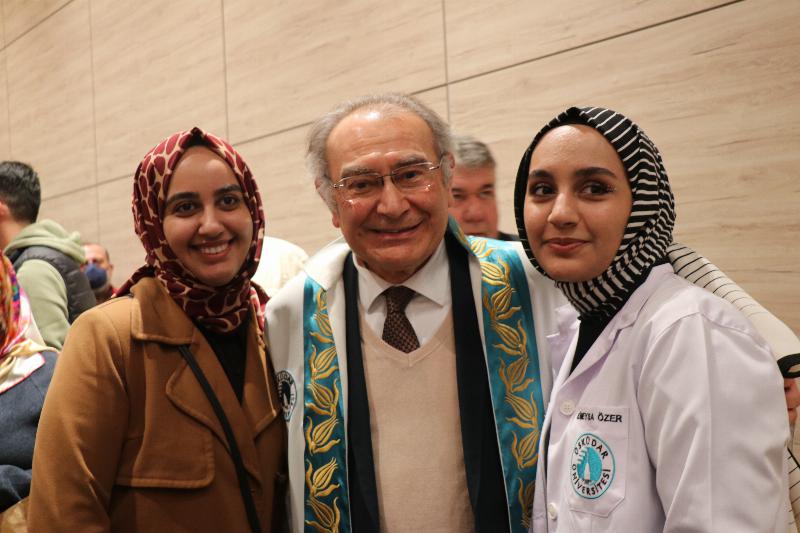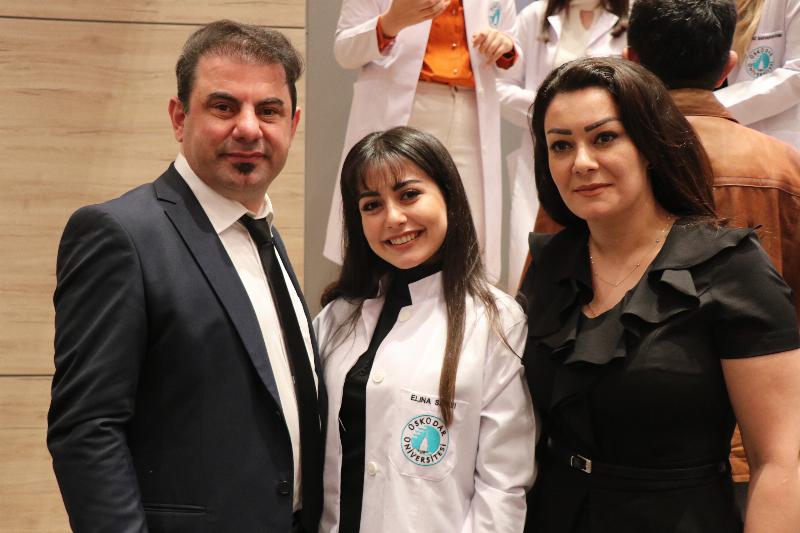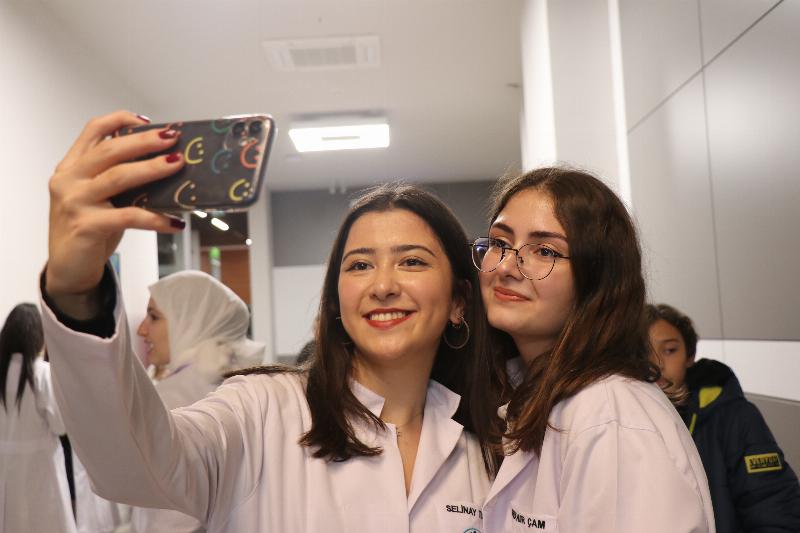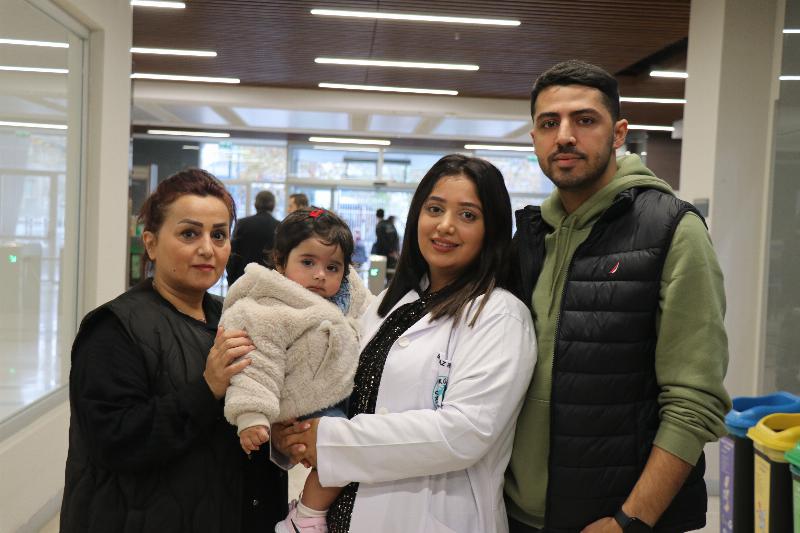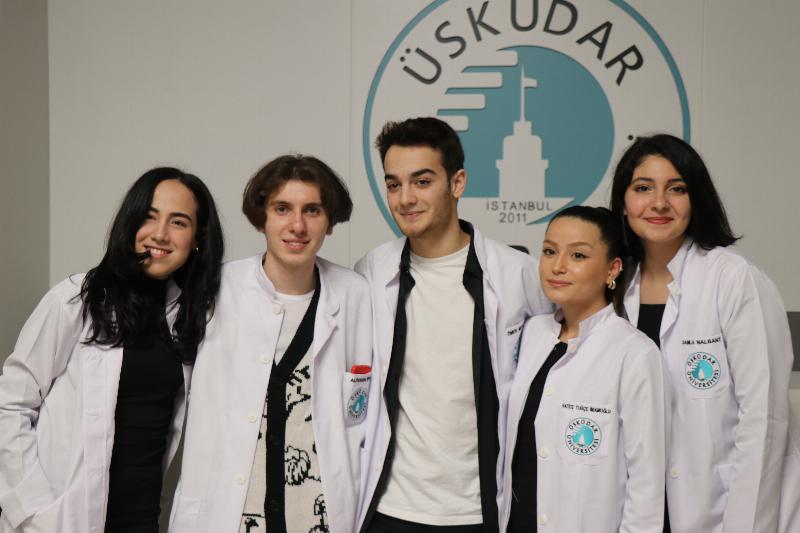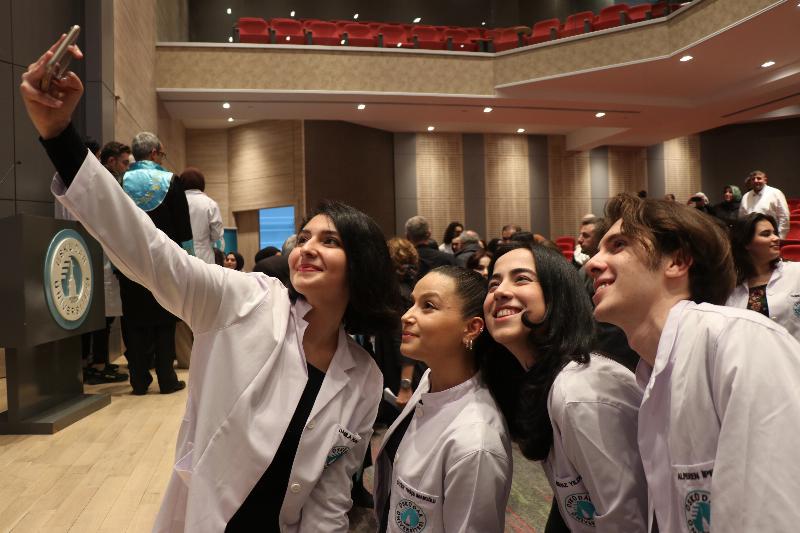 An exhibition was also opened…
The White Coat Ceremony was ended with a souvenir photo and the opening of the exhibit consisting of the works done by the students in the course 'Aesthetic Construction and Form' and parent viewed the exhibit.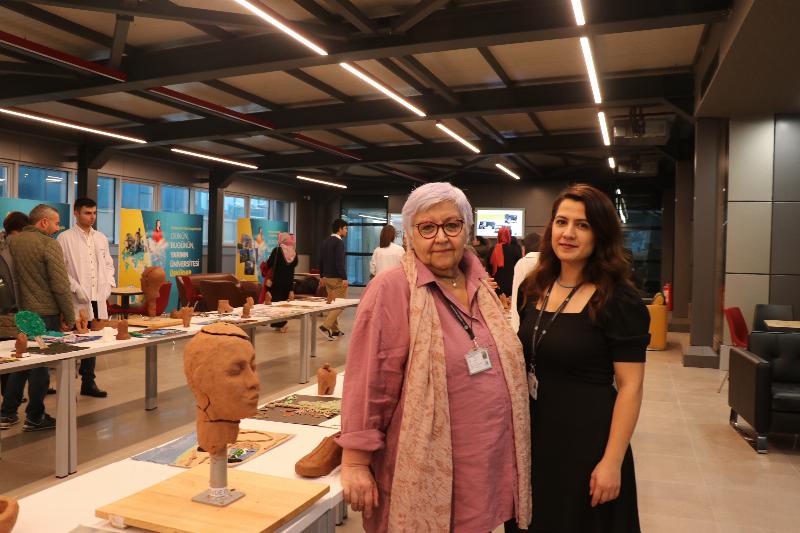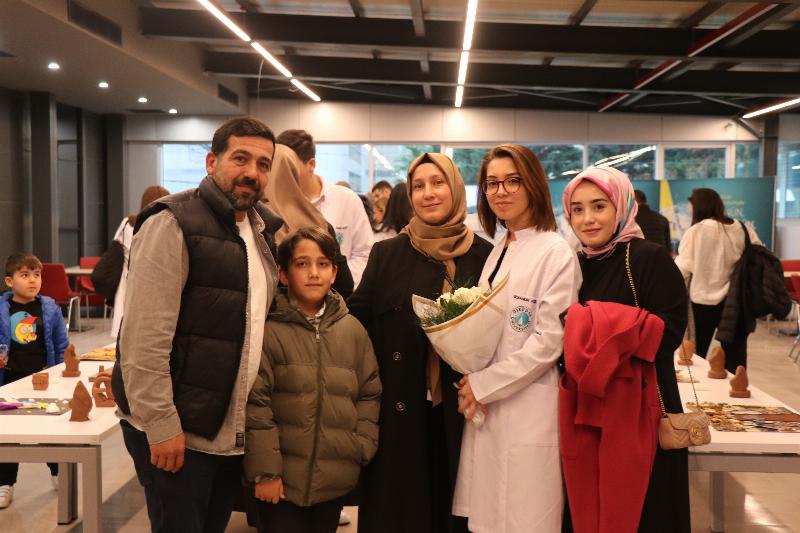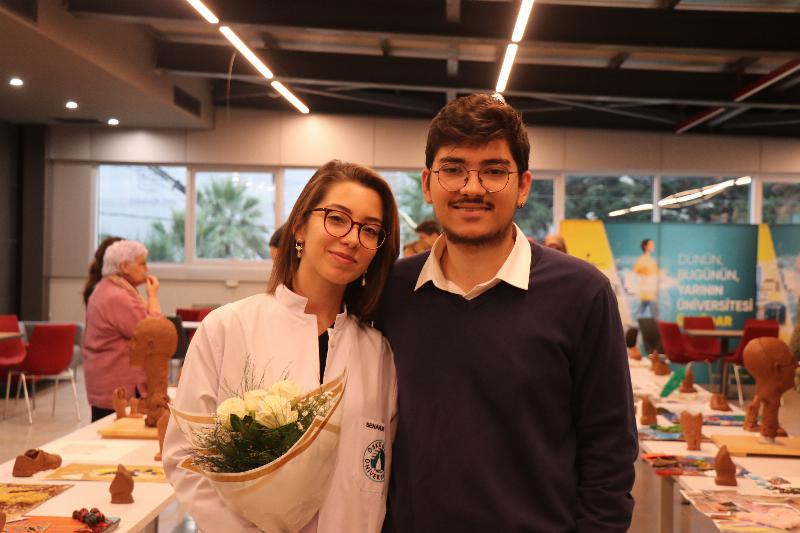 Üsküdar News Agency (ÜNA)