The Üsküdar Alumni in her young age founded the first and only medical e-market in the World….
Üsküdar University Molecular Biology and Genetics department graduate Betül Bıyık founded the first and only medical e-market where all the medical products are exhibited. Aiming to ease the Access of medical products MediCoa.com and Medicoa Lojistik (Medicoa Logistics) company provide service in 43 countries. The company mediated transport of the medical products between medical firms and consumer without any problems. Bıyık made an important success in a short time and she said they created first domestic Covid-19 and monkeypox diagnose kit together with Vision and Cesna Biyoteknoloji (Cesna Biotechnology) companies.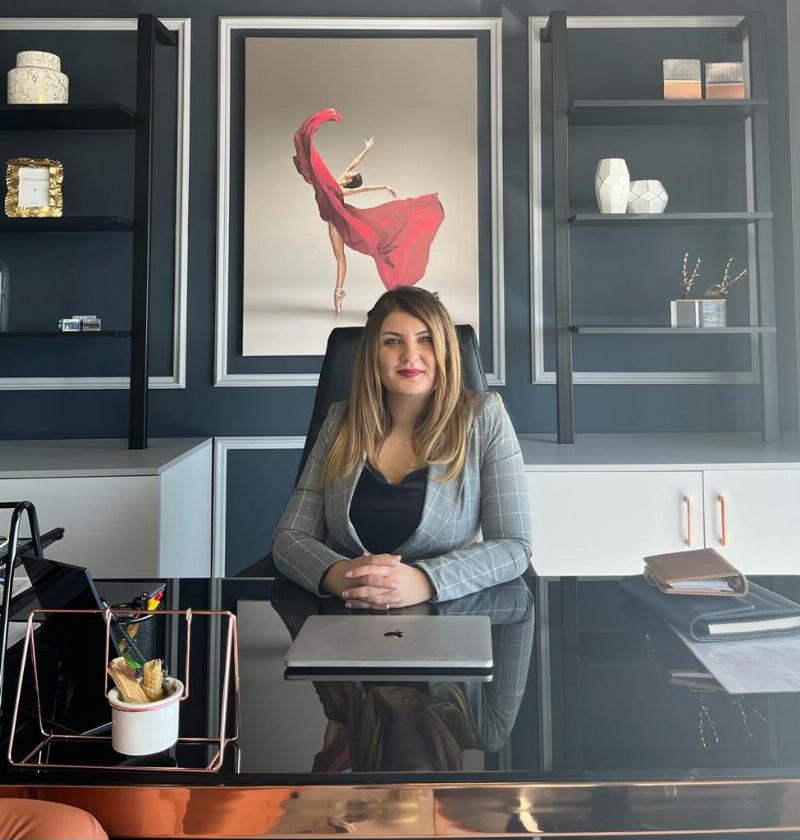 Üsküdar University Molecular Biology and Genetics department 2017 graduate Betül Bıyık made a breakthrough thanks to her observations during the fair that she attended when she was a student and she had a chance to actualize the idea that she came up with. Betül Bıyık became pioneer by establishing one and only medical e-market Medicoa.com and Medicoa Logistics in 2022.
She realized an ecosystem where both customer and supplier gain
In the period when Betül Bıyık was a student, she was interpreting for a foreign company that sells dental tools, in the Dental Health Devices and Equipment Exposition. She said "I realized that their dental products are different than the equipment that we use in our laboratories. However, there were similar needs such as sterilization, medical textile. As a molecular biologist, it did not occur to us to get autoclave from a dentistry storage but the same product was there too. Similarly, I would not be the target audience for a dentistry storage whereas I am indeed its customer too. I realized that there is an ecosystem here where both supplier and customer gain meanwhile cost of marketing is reduced. Then, I established one and only medical e-market in the world where all kinds of health sector can exhibit their products. Since it is launched, my aim was to find a solution to a problem. Now, it motivates us that every single day we are getting closer to solve the problem of firms and health of society with our services MediCoa.com and Medicoa Logistics to ease the transport of medical
MediaCoa.com expanded during the pandemic
Betül Bıyık states that MediCoa.com is a company that expanded during the pandemic and added: "As we all have a close experience, in this pandemic, the digitalization became a more important tool in order to sustainability of the work in both private and governmental sectors. 60% of people who have never shopped online, have changed their habits and started to shop online. Therefore, the health sector is also affected by this progress. According to the Stacline e-commerce statistics, single-use gloves ranked first with 180%, and medical monitoring devices with 182% and laboratory and science products with 90% followed the list in the top 100 categories that have the biggest growth rate.".
Medical companies were able to serve without interruption during the pandemic
Betül Bıyık indicated that hospitals were caught unprepared in supply of the products although health sector is experienced in crisis management, and adds "when there was a lockdown and entries to the hospitals were forbidden, field team had difficulties to promote their products to the hospitals since they were not able to apply traditional visit methods and it became one of the units that were affected the most by the pandemic. Therefore, we exhibited products by the companies in a platform that is specific to their needs as MediCoa.com and we help sales to continue without interruption. Also, our Vision and Cesna Biotechnology companies helped people to take measures in order to prevent spreading the pandemic by producing first domestic Covid-19 and monkeypox diagnosis kits. During this trying times, MediCoa Logistics worked devotedly.".
Betül Bıyık mentioned that MediCoa.com serves in 43 countries and added "Each country is our natural expansion field. The products we produce are common need for every each, gender, nation and different income groups. They are inelastic products of which demand does not change according to esthetic choice or cultural codes, geographical factors or different demographics. All people in the world consist our target audience and everyone can be our customer individually or with a government support. We can be at the stage where we export much more products than UN countries. Our experience and future strategies become one at this point and our infrastructure allows this as well. Mainly, this forms our vision and that is our main motivation.".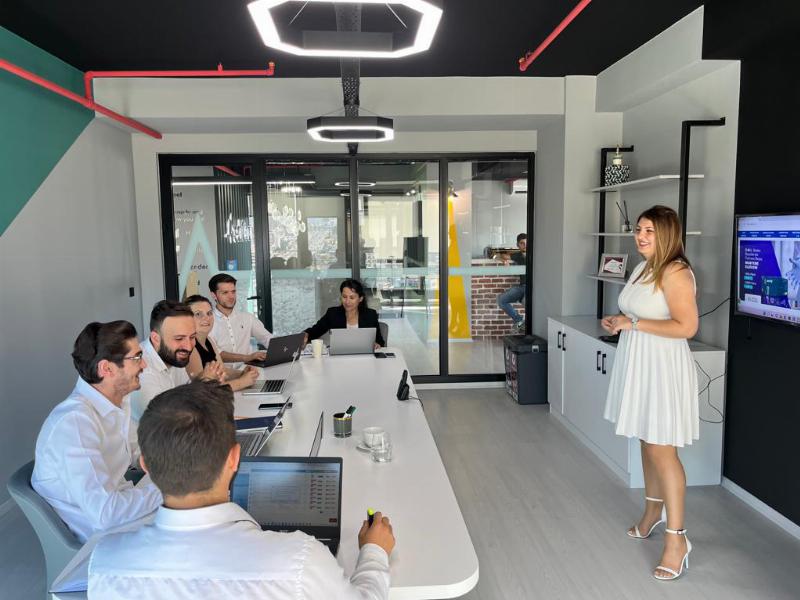 They operate in 25 branches of the health industry
Betül bıyık states that MediCoa.com is the first and only medical e-market in Türkiye and in the World and they provide service for health professions within the framework the regulation and said they provide sales in an economic and fast platform which has over a thousand medical store in 32 categories of 25 different medical branch with its over 500 members. Bıyık said that "Within health professions, we contribute to the suppliers in aspects of payment within a short time and increase of their potential customers and we support sale officials in saving of time and product range."
Betül Bıyık expressed that they achieved successful businesses with 14 companies including MediCoa.com based on biotechnology and said "Our Vision Biotechnology and Cesna Biotechnology companies operate R&D and production aspects of Covid-19 and Monkeypox diagnosis kits. Our Mission Biotechnology company operates in domestic production of laboratory devices and equipment. MediCoa Logistics supports in the transport aspect. MediCoa Dent is our company that will begin to serve soon. With MediCoa, we perform sales of products within our company and also within other medical companies.".
Test Kits were found successful in Germany
Betül Bıyık stating the kits they developed were found successful in Germany said "When an independent German organization collected and inspected all the kits developed by the all the countries, Cesna Biotechnology within our group companies was in the top 5 with their two products. Our R&D and P&D laboratories that update their product content with every variant, will continue their work in a possible pandemic or its variants.".
We changed shopping habits in medical sector
Betük Bıyık touched upon their intuitional future goals and said "We have a dream. Initially in Türkiye then in the world, we aim to create a reliable platform that over 10 thousand health and medical companies combine their forces with the benefit of the latest technology, where their voice can be heard, where medical products are sold only in pharmacies and medical company, and where customers do not have to wait to pay. We changed shopping habit in the medical sector. Of course, there were people who told us that we cannot do it or it is impossible. Yes, we knew that it would not be easy to change the system but we did it. We believe in ourselves, and we were raised with the field itself. We love our job and we care for it. We work day and night to provide the best service possible.".
During my student years, I participated in many works abroad
Stating that there are valuable contributions to her success thanks to the education she received in Üsküdar University, Betül Bıyık said: "Üsküdar University is a university that supports its students both academically and in terms of activities. When I was in the third grand in university, total 5 universities including Üsküdar University launched an Erasmus+ program. The common goal of this program was to create and joint budget to support students who wants to do internship program in abroad. A monthly scholarship was given to the students who are within top 30 students from each university. I had an opportunity to be accepted by Liverpool John Moores University, Department of Sport and Genetics and to have 3-month internship. There, we analyzed genetics of Liverpool football platers and Manchester rugby players. I played an active role by participation studies by my advisor and doctorate students. Indeed, I was one of the writers in an internationally valid journal as I participated in a scientific research. Therefore, I had advantage of following closely current studies within our country and abroad. Besides academic studies, I also participated in social events. I established Student Dance Club. I had a chance to rehearse my future company while I was combining my hobby and work life. My friends and I organized dance courses for students that they can learn from dance instructors. In that way, I have a first look into customer relations, sales, persuasion, staff managements, crisis management and financial cycle.".
Pay attention to these advices
Giving advices to university candidates on profession choice Betül Bıyık said: "Preferring a department and university start with discovering our sets of skill and competence during secondary school and high school years because preferring a department means determining a field that you will work in willingly for 20 to 30 years. That's why, it is important to think thoroughly and then you should decide on department choice. After you discover yourself, you should examine whether the chosen profession is suitable your character and skills. Lastly, it should be considered whether the profession which meets both your skills and character, is sustainable in future and what facilities it provides. University preference must be examined as a different subject. You should search universities that can prepare you for the future instead of its name. I personally believe that it is actually up to the students themselves although considering elements such as internship, opportunities of studying abroad, biography of the academics and international recognition of the university brand, can provide significant advantages. Today, it is easy to access the information but it is important to realize the information by applying it.".
Discover areas that you can work passionately and improve yourselves on that area
As a woman entrepreneur, Betül Bıyık gave some advices to future woman entrepreneurs and said: "It makes me happy to see that women take place in working life more and more recently despite of all the cliché attitudes towards women. Discover the areas that you can work passionately. The only rule to succeed in a profession is to love it and to improve yourself. Follow closely the agenda. If you want to start your own business you should follow the sector closely and observe the needs or new trends in the sector. Doing regular research in the field, being disciplined, working heard and making the right decision is an outcome of a good analysis. Utilize the technology. The world is getting more globalized every passing day. Developed countries are aware of that the power is not physical but it is within the educated human mind. That's why it is necessary to be part of information societies by following closely new technological developments. Create a network. Obtain new connections that will improve, contribute and expand your horizon. Your vision will be improved, your point of view will be clear and your ideas will get stronger.".
Üsküdar News Agency (ÜNA)