"Covid-19 Writes Its Own Story in Every Country"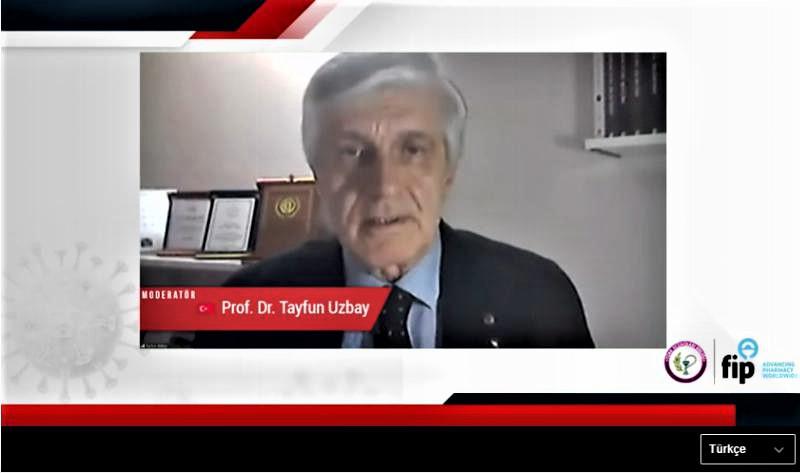 The role and experiences of pharmacists were discussed in the Covid-19 process at the webinar event attended by pharmacists from The UK, France, Finland, Spain, and Turkey.
"Every 100 years occurs a pandemic"
On December 19th, 2019, he stated that Covid-19, which originated in China, spread throughout the world and caused a serious pandemic. Prof. Dr. Tayfun Uzbay said the pandemic had previously been underestimated before. Uzbay said; "We see such a pandemic for the first time, but it happens every 100 years. Despite today's high technology developments, it could not prevent the pandemic from suddenly stopping the world economy. We have been experiencing serious problems, especially for 2-3 months. Unfortunately, those who underestimated the virus, soon saw, that this was something that should not be taken unserious, due to encountering deaths. This is a situation that needs to be taken seriously."
"The pandemic has taught a lot"
Prof. Dr. Tayfun Uzbay stated, that we, unfortunately, understood the importance of investing in the health and education system during the pandemic. Uzbay outed; "We have seen how important the health system and the understanding of the social state in health are. In line with the universal declaration of human rights, it is a fact that all people are equal regardless of race, religion, language, and gender discrimination. It is a constitutional right to protect human health and to have access to treatment when they are sick. This right is enshrined in the
Constitution of the Republic of Turkey (§56)
and in the constitutions of all other countries.".
"Covid-19 Writes Its Own Story in Every Country"
Prof. Dr. Tayfun Uzbay said, "Each country was pursuing a different strategy of fighting Covid-19. Uzbay told; that "Considering the spread of the virus that caused the pandemic, its total weight is estimated to weigh just about 1 g, and this virus has now caused nearly seven million cases and more than four hundred thousand deaths worldwide. Unfortunately, it still continues to kill. Each country followed a different fighting strategy against Covid-19. This is a natural course of pandemic processes. Covid-19 writes its own story in each country especially for. There's a little more time to figure out the real story or who wrote the true story".
"Health care workers were in the biggest risk group during the Covid-19 process"
Respectfully commemorating those who lost their lives due to the virus, Prof. Dr. Tayfun Uzbay said, that the biggest risk group in the Covid-19 process were healthcare workers. Uzbay talked like, "We are still trying to understand this virus. Pharmacists, physicians, and nurses are the three indispensable elements of human health and treatment. Health professionals have been the biggest risk group in the Covid-19 process."
Üsküdar Haber Ajansı (ÜHA)