IMPORTANT INFORMATION AND ANNOUNCEMENT ON THE NEW CORONAVIRUS (Covid-19)
Dear Üsküdar University academic and administrative staff and dear students;
Üsküdar University
commits to fulfill its duties on issues related to public health. We are carrying out crucial works within the scope of combating the
New Coronavirus (Covid-19)
, which affects the world.
As a part of our social responsibility mission, we raise awareness and inform the public about the
Coronavirus
outbreak, which is among the diseases that need to be tackled globally by being declared as "
pandemic
" by the
World Health Organization (WHO)
. Since the outbreak, Üsküdar University have carried out important works on answering the questions of public interest that contain many useful information about coronavirus.
INFORMATION DELIVERED TO PUBLIC BY PRESS CONFERENCES AND NEWS ACTIVITIES:
A press conference titled
"Coronavirus: Facts and Mistakes"
was held in our Main Campus on
04 February 2020
in order to inform the public about the
Coronavirus
and prevent information pollution as the methods of protection from the virus were shared with the public in detail. Information was provided about the precautions to be taken against coronavirus at the press conference followed by many national newspapers and television channels. It was aimed to prevent the ongoing
disinformation
especially on social media through the news and interviews regularly served by the experts of the subject.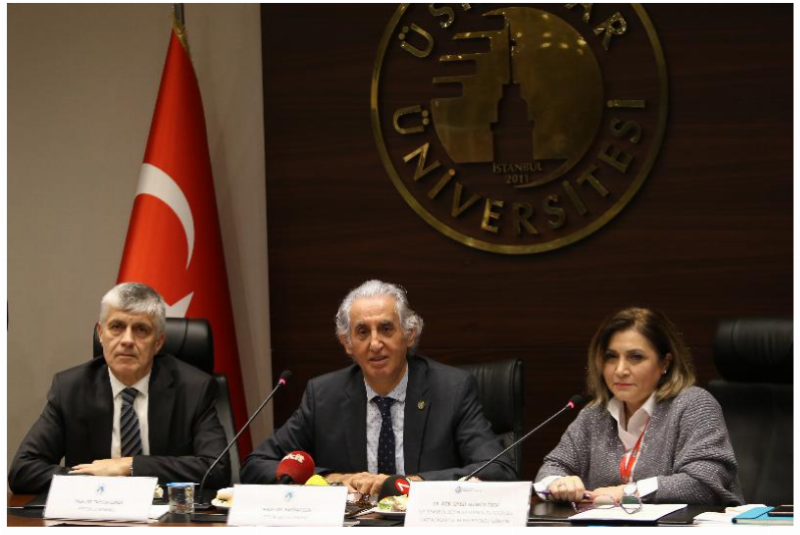 HEALTHY INFORMATION FLOW PROVIDED TO ALL OUR MEMBERS:
We are carrying out many various studies in order to ensure that our students, academics and administrative staff as well as the public are aware of the precautions to be taken against the coronavirus. Necessary information is provided continuously through
e-mail, SMS, push message and digital screens
, especially our
social media accounts
and our official website.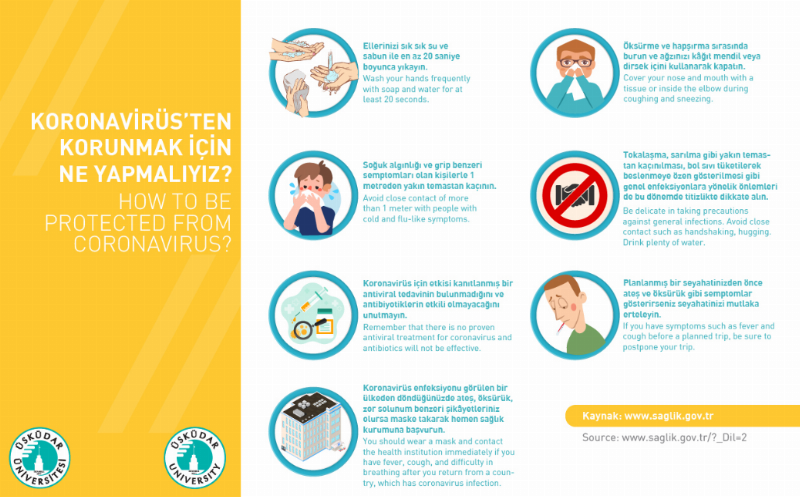 OUR PRIORITY IS TO FOLLOW THE GUIDANCE OF THE MINISTRY OF HEALTH AND CHE (COUNCIL OF HIGHER EDUCATION):
The studies carried out to raise awareness by our university regarding coronavirus, which was declared in our country given the statement of the
Ministry of Health
on
March 10, 2020
, continue without interruption.
IMPORTANT INFORMATION ABOUT COURSE CONTINUITY AND MEASURES TAKEN:
Due to the statement made by the
Presidency of Turkey
on
Thursday, 12 March 2020
and the decision conveyed by
CHE
(Council of Higher Education),
Üsküdar University
has suspended
educational activities
for
3 weeks
as of
Monday,
16 March 2020
.
Those
over 60 years old
, and with
chronic diseases
, who are
disabled
and
pregnant
from our
academic
and
administrative
staff will be considered as
administrative leave
except
President, Vice-President, Deans, Principal of Vocational School, Institute Directors
. If the academic and administrative staff other than these are deemed to be on leave, they should apply to the Directorate of Human Resources by submitting medical reports on chronic and home-care diseases. Their requests will be evaluated by our Rectorate within the framework of their excuses.
All international travels of
academic
and
administrative
staff, including those previously planned, are canceled until a second announcement.
Students' educational activities related to
university activities, academic exchange programs, social activities, cultural trips, sports activities, competition, travel abroad, etc.
, including those which are already planned, have been canceled until a second announcement.
Students, who currently attend all health programs, including medicine, science and engineering programs, associate degree,
undergraduate internship
,
internship and applied education
will also be considered within the scope of holiday leave.
All graduate students
will also be considered within the scope of holiday leave.
All students (Turkish and foreign nationals) are to be informed by our university that if they travel abroad, they may have problems according to the pandemic status on their return and their flights may be canceled. They may not continue their education for
at least 14 days
when they return, and they may have other problems.
Within the scope of the
Erasmus
exchange program, the authorized committees of our university will take measures and an evaluation will be made in order to prevent the students who are abroad and will return.
Our libraries' working hours (08.30-17.30) have been updated and books can be borrowed upon request.
Information regarding the mid-term and final exam dates will be announced in the coming days.
A commission has been formed under the leadership of our
Chairman of the Board of Trustees
determined on the subject in order to carry out the processes effectively and dynamically. In this context, the student communication and follow-up system will be reviewed and updated. Academic, administrative staff and students will be regularly and periodically informed.
The measures and practices in our health institutions will be decided by the chief physician of our health institutions and will not be included in the above measures. Health personnel in the units will continue to work at university's infirmary, etc.
As
Üsküdar University
, we emphasize once again that we will act in line with the recommendations of
CHE
(Council of Higher Education) in all future processes.
Additional information will be provided to all of our members and students on
"Actions and precautions to be taken against the coronavirus"
. In addition, the "
14 Rules
" prepared by the Ministry of Health, which to be followed against the Coronavirus, are placed on certain spots in campus as well as on the digital screens for the purpose of providing information. We would like to emphasize that all information should be followed carefully and the suggestions and rules specified should be followed.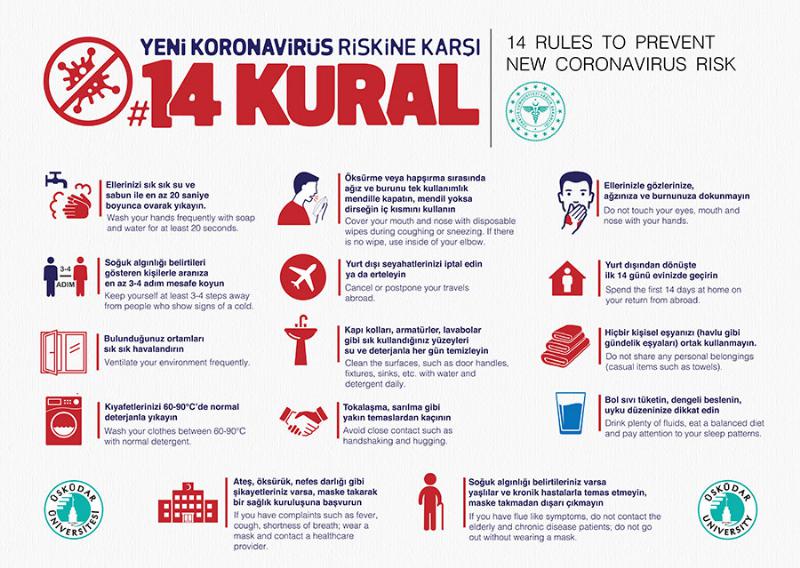 THINGS TO BE CAREFUL FOR WHILE TRAVELLING:
We strongly emphasize that those who have traveled to any country abroad or have recently traveled abroad should inform the relevant departments of our university before and after the measures reported by the Ministry.
Our administrative and academic staff coming from abroad on or after 10 March 2020 will be deemed to have administrative leave, which will be completed in 14 days, when they provide the documents their travels. The departure of all academic and administrative staff abroad are cancelled until April 15, 2020.
All individuals with suspected disease will be referred to the
İstanbul Sultan 2. Abdülhamid Han Training and Research Hospital
. In addition, the transferred patient information will be followed by our
Directorate of Health, Culture and Sports (SKS)
to share with relevant institutions.
CLEANING AND DISINFECTION WORKS IN OUR CAMPUSES:
Cleaning activities are carried out regularly in all our campuses, not only during this period, but throughout the year. During the epidemic that affects the whole world, our campus areas are carefully
disinfected
with sensitivity.
Anti-bacterial hand cleaning devices
are placed at the appropriate points in the campuses, and all closed areas will be ventilated and the ventilation systems will be controlled during the interruption of education.
You can go to our infirmaries in case of symptoms and have the necessary health checks.
Cafeterias and cafeterias
are constantly controlled and measures are taken regarding
tray and table cleaning.
The cleaning works of the service vehicles are more frequent, and all cleaning personnel carry out their disinfection works with equipment and clothes that comply with the standards.
We declare that we will continue to work actively for your health and that we will inform you as new developments regarding the subject emerge.
We wish you all healthy days ahead.
Üsküdar University Presidency