Erasmus students shared their experiences in abroad
Students who benefit from Erasmus internship and learning mobility program within Üsküdar University Faculty of Engineering and Natural Sciences, shared their experiences in an event moderated by Head of the Bioengineering Department Dr. Tuba Sevimoğlu and Vice Head of Molecular Biology and Genetics (English) Department Dr. Shirin Tarbiat.
Faculty Dean of Engineering and Natural Sciences Prof. Osman Çerezci also attended the 2. "What to Know About Erasmus" event. International students also showed great interest to the event where the presentations were held in English and Turkish. Students found answers to many questions about Erasmus.
The stories of the students who have been e-mailed hundreds of times for the internship and reached their goals in the end, and experienced Skype interview, attracted great interest.
Head of Bioengineering Department Dr. Sevimoğlu stated that the aim is to take this event to an international level next year and also stated that academicians from universities with an Erasmus agreement were also aimed to introduce their departments and countries to our university.
Özge Alacakoç from the Directorate of International Office was the first speaker in the event organized in Main Campus, Nermin Tarhan Conference Hall and explained the conditions for going to Europe, the periods of education and internship, the amount of grants given depending on the country with Erasmus program.
Afterwards, the students who went to Europe for the internship or training period provided their experiences to the students who wish to attend the program.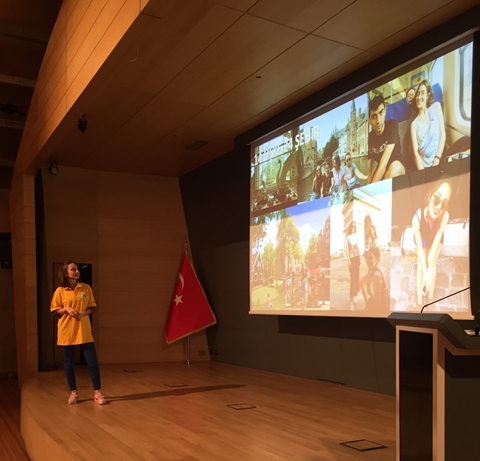 "We traveled 14 countries and 24 cities in one semester"
Bioengineering Senior student Ferzan Betül Berber and Molecular Biology & Genetics Junior student Mehmet Yunus Çomar said that both of them were in the same university and had the chance to do social activities together. Berber said, "The most entertaining and memorable part of Erasmus is the quality time spent there. We went there to travel and we made it happen. We traveled 14 countries and 24 cities in one semester."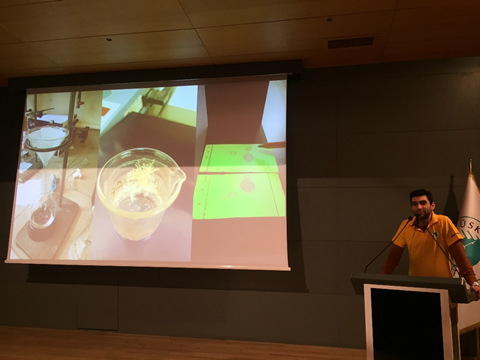 "
We gained different perspectives on many new techniques and courses."
Yunus Çomar stated that they had acquired a lot of new technical knowledge that were not present in the laboratories here and that he gained a different point of view to the university education.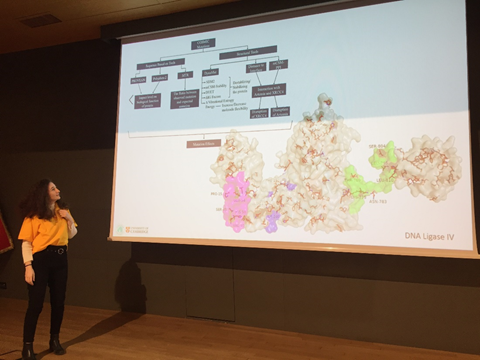 "The tough road ended in victory"
Bioengineering Junior student Ebru Destan did an internship at Cambridge University and gave the details. Destan said, "I have applied to various universities for internship upon receiving an approval from Cambridge. What's important here is that you know what you want and specifically talk about your field of interest." Destan also stated that she had an interview via Skype and that this is a tough period but also fun.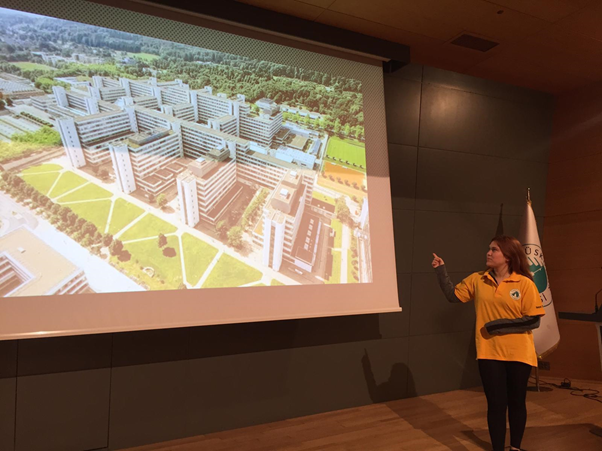 2 projects on Evolutionary Biology conducted
Yaren Yeşim Yavuz, who is doing double major in Molecular Biology and Genetics English as well as Bioengineering, talked about her Erasmus+ internship experience in Bielefeld, Germany on June – August 2018. Our student who has realized two projects on Evolutionary Biology at the University of Bielefeld has expressed her experiences as follows; 'Erasmus+ internship is a program that definitely should be experienced. The most important characteristics of Germany particularly are the high number of working opportunities and disciplined working environment. I recommend Germany for internship.'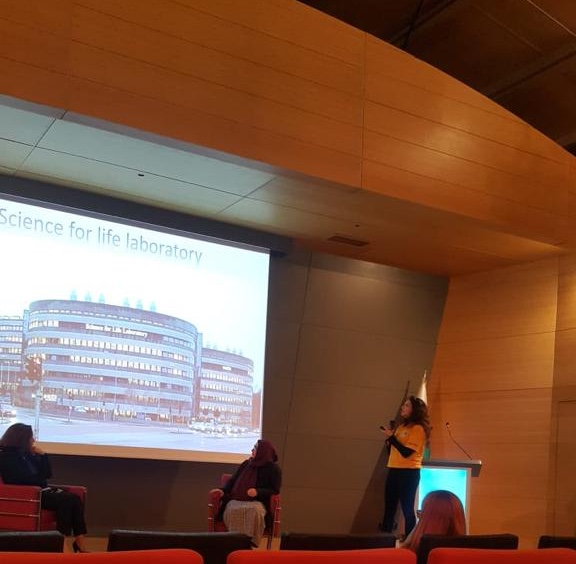 Everyone is afraid of not succeeding
Bioengineering Junior student Hilal Yüksel talked about her internship experience in Sweden. Hilal mentioned the language factor in her speech and continued as; "Everyone is afraid of not succeeding and do not apply. Whereas, no one speaks perfect English."
Then, she shared her experiences during the internship and provided information about her studies. When she received the first admission for the internship, she had a Skype conversation with her teacher and stated that she had passed certain stages for admission accordingly.
Molecular Biology and Genetics English student Muhammet Mustafa Öztürk talked about his Erasmus+ internship program at UK's University College London (UCL) in July – October 2017. Our student, who studied about ALS disease in UCL, talked about his experiences.
Üsküdar News Agency (ÜNA)