She received her diploma by Prof. Nevzat Tarhan in person
Becoming an example to people in her circle with her determination, Social Services program graduate Gamze Önder, who can manage to stay positive despite of difficulties she experiences, received her diploma by President of Üsküdar University, Psychiatrist Prof. Nevzat Tarhan in person.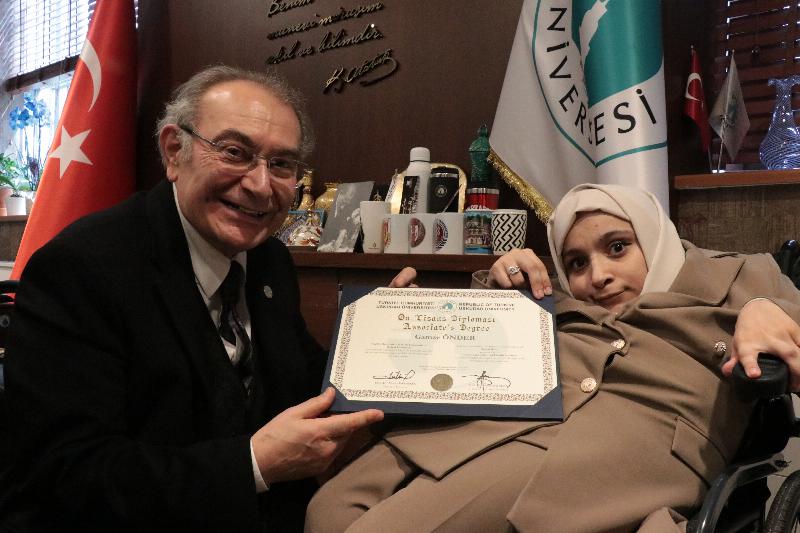 Social Services program graduate Gamze Önder received her diploma by paying a visit to Prof. Nevzat Tarhan. Expressing that she had reservations regarding transportation problems her family might experience due to the disability she has when she won the university exam in 2020, Gamze Önder shared her happiness that she completed successfully Üsküdar University Social Services Program with Nevzat Tarhan.
"I try to maintain a positive perspective"
Continuing to maintain a positive outlook towards life despite challenges she is experiencing and becoming a role model to her close circle, Önder said "I look at life positively. I try to maintain my positive Outlook towards life even though I go through some challenges. For example, there is no elevator in our home, so I cannot arrive at home without help of my family. Despite of that, studying in a university was my biggest dream. After I have started to read books of Professor Tarhan and followed him on social media, I was really impressed by him and his perspective towards life and I have decided to study in Üsküdar University. My first preference was Social Services program. I really want to work in this field.".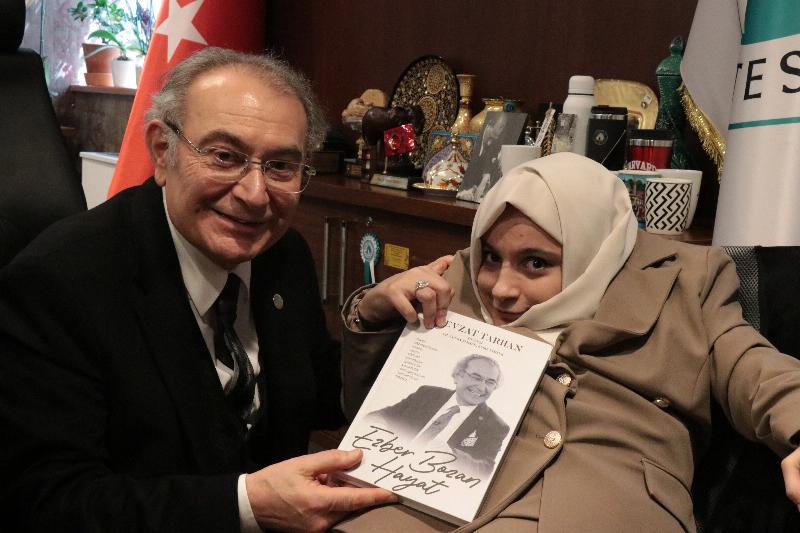 "I write my life"
Expressing her great interest in books, Önder stated that she is writing her life. Önder said, "I am really interested in books and I love reading. Even right now, I am writing a book, a book on my life. I believe that I can set an example for people with my life.".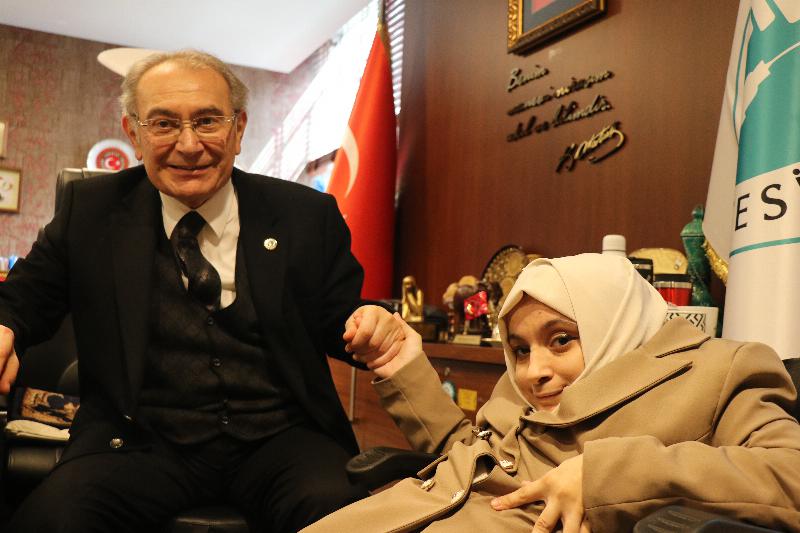 Prof. Tarhan asked questions on the disorder Önder is experiencing
Üsküdarlı yeni mezun Gamze Önder ile yakından ilgilenen Tarhan, son kitabı Ezber Bozan Hayat 'a ilişkin Önder ile sohbet etti. Kitabı okuduğunu ve çok beğendiğini belirten Gamze Önder, uzun süredir bu kitabı beklediğini sözlerine ekledi.
Prof. Nevzat Tarhan gifted his signed books to Önder during the visit.
The visit was ended after Gamze Önder was presented with her diploma by Prof. Tarhan.
Üsküdar News Agency (ÜNA)