Assoc. Prof. of Management Dina Abdelzaher on "Eco Islam: the what, the how and the next: Lessons from Corporations"
Disasters caused by global warming continue to threaten the whole world. While scientists and environmentalists continue to raise awareness of global warming and its consequences on every platform, Uskudar University Environmental Ethics Forum (UCAF), established in May 2021, is also carrying out concrete steps in order to raise awareness in society by bringing together competent researchers and academics working in this field. The last guest of UCAF was Assoc. Prof. Dina Abdelzaher from the University of Houston-Clear Lake Business School, USA.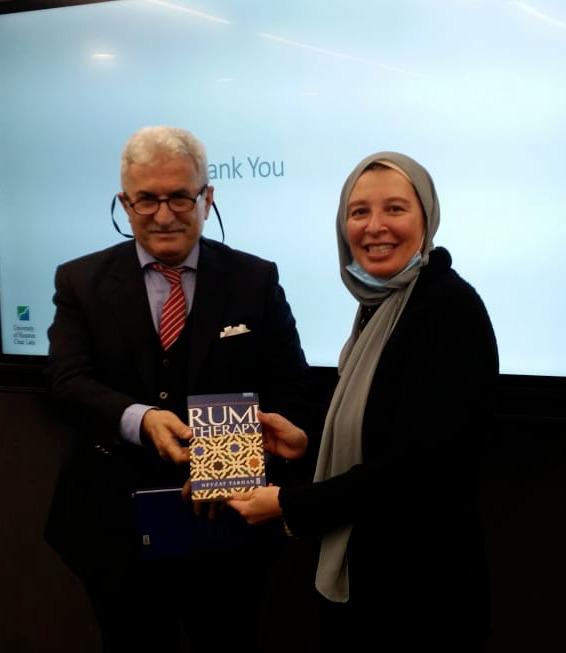 Assoc. Prof. Dina Abdelzaher visited Prof. Dr. Ibrahim Özdemir, Head of the Philosophy Department of the Faculty of Humanities and Social Sciences at Üsküdar University, as well as the Director of UCAF. In this visit, she acquired information about Üsküdar University's activities and UCAF.
Assoc. Prof. Abdelzaher also expressed her appreciation for the "al-Mizan: Covenant for Earth" of which Prof. Ibrahim Özdemir is among the researchers; by saying: "This contract will be a call to all Muslims and humanity. It will be a roadmap for governments, NGOs and society.".
Making a presentation titled "Eco Islam: the what, the how and the next: Lessons from Corporations" (Eko İslam: Ne, Nasıl ve Sonrası: Şirketlerden Dersler), Assoc. Prof. Abdelzaher gave concrete examples on this subject and explained the dynamic nature of the human-nature relationship. In addition, by listening to al-Mizan's message: A Covenant for Earth, she underlined the need to create businesses and a consumer group that is compatible with the spirit of Islam and more sensitive to the environment with moral responsibility. In the presentation, Abdelzaher gave examples of businesses trying to be more 'green' and consumers getting to know themselves better and what they can do.
The seminar, held with the participation of various faculties from Üsküdar University and significant interest from outside. After the presentation, the program continued with a question-answer session and comments.
At the end of the talk, Prof. Ozdemir presented to Assoc. Prof. Abdelzaher, the book of our Founding President, Prof. Dr. Nevzat Tarhan The Rumi Therapy.
Prof. Dr. Ibrahim Ozdemir
Head of Dept. of Philosophy, Uskudar University
President, Uskudar University Forum on Environmental Ethics
Core Team: Al-Mizan: A Covenant for the Earth
https://www.unep.org/al-mizan-covenant-earth
Üsküdar Haber Ajansı (ÜHA)