Uskudar graduate 'Bulut Atlası' members met with students on May 19
The event was moderated by Ulke Talay, a graduate student in the Department of Molecular Biology and Genetics.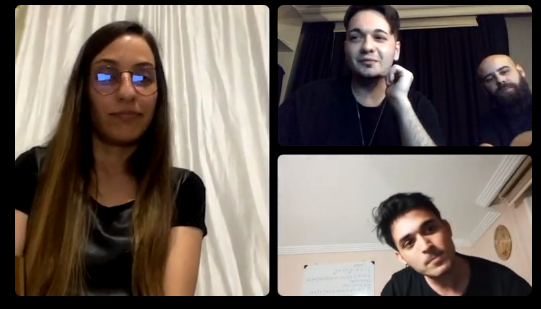 Kaan Cengiz, who talked about the foundation stories stated; "In fact, our founding story began with Kadir. We talked to Kadir about a musician ad we saw online. Then we played together in different bands. But after a while, we decided to start our own band and composing on our own. We've improved each other. Then we formed the group 'Bulut Atlası'. Professionally, we are composing since 2017. As a genre, over time, we evolved into modern rock music."
Kaan Cengiz, who also talked about the stories of starting the project #ARTIKSUSMA, said; "In fact, the outcoming of the story is something that everyone is uncomfortable with, violence against women, murders of women, abuse of women. Over time, these events began to be unspoken in Turkey. Things go up a lot, but they're not talked about, there's no action. So we wanted to put our hands up as best we could do. We hope that what we have done has reached a certain place. The project evolved into a fundraising project and we delivered the donations collected from there to women and children in need through the 'We sing for our children association' and 'Women's Solidarity Foundation (KADAV)'. The project is ongoing; we are open to donations. We want to keep it going as long as we can do. Throughout the process, we found that everyone, in general, was uncomfortable with this issue and no one was talking about it. We've talked to a lot of brands and a lot of companies. At first, everyone said, 'I'm going to be very supportive.' But then people stood back for fear of being political, being misre known. But there were a lot of people who helped, and I thank them once again."
The band then performed their hit songs 'Sistem', 'Bitmeyen Gece' (Never-Ending Night), and 'Ah Sensizlik' (Pity being without you) in a short chorus of their newly released songs.
Üsküdar Haber Ajansı (ÜHA)