8th Bio-engineering days took place Online!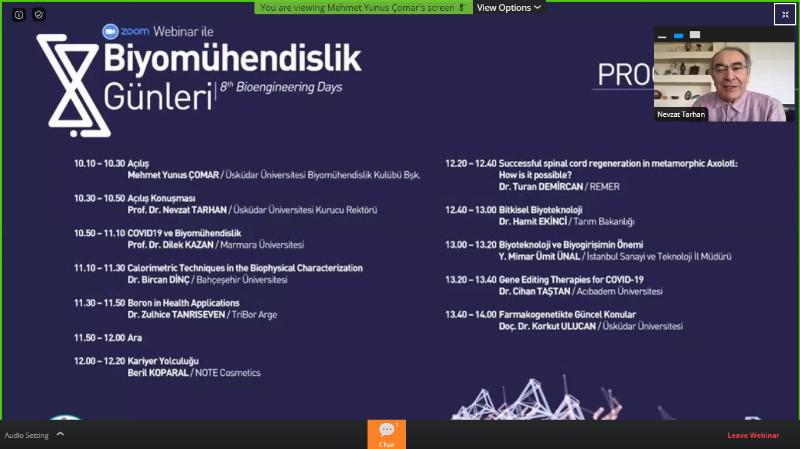 The 8th of the Bioengineering days organized by the Bioengineering Department of Üsküdar University took place online. Üsküdar University's Founding President Prof. Dr. Nevzat Tarhan stated that the priorities have changed in the program where he made the opening speech, Tarhan said, "Investing in the arms industry and oil in the world was a priority. But now investment in health and people is a priority."
The opening speeches of the program were made by Üsküdar University's Founding President Prof. Dr. Nevzat Tarhan, Vice Dean, Faculty of Engineering and Natural Sciences, and Head of Bioengineering Department Dr. Lect. Member Tuba Sevimoğlu and Üsküdar University Bioengineering Club President Mehmet Yunus Çomar.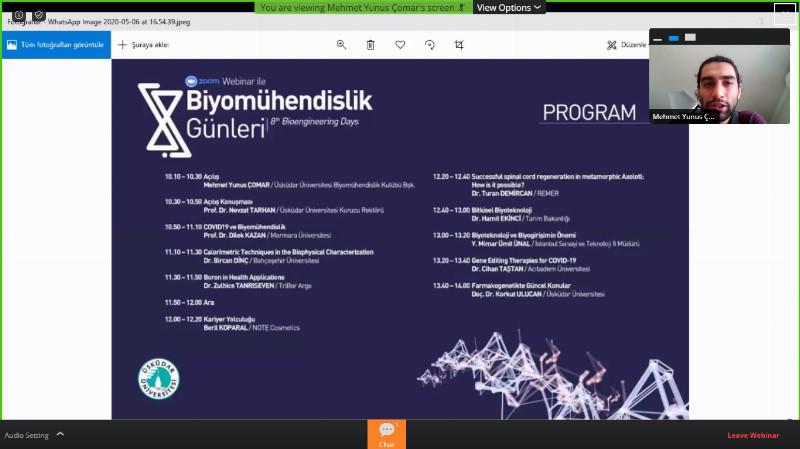 "The importance of bioengineering is understood even more"
Mehmet Yunus Çomar pointed out that the importance of bioengineering has become more and more understood today. Çomar said, "We know that Bioengineering includes many different multidisciplinary departments. As biotechnology unites engineering, it is a crucial part in the development of vaccine and pharmaceutical technology or device and diagnostic kits. Based on this, we have prepared this program in order to introduce our department better, to realize better deal, and to realize what we can do."
Dr. Lect. Member Tuba Sevimoğlu: "Bioengineering Department exists since the establishment of our university"
Dr. Lect. Member Tuba Sevimoğlu stated that the Bioengineering department and the club have existed since the foundation of Üsküdar University. She emphasized that the Bioengineering Days Program, which is held regularly every year, is important for students to raise awareness about Bioengineering, which is called the profession of the future.
Prof. Dr. Nevzat Tarhan: "The importance of investments in bioengineering was understood"
Prof. Dr. Nevzat Tarhan, Bioengineering Corona with the pandemic that the world and Turkey began to realize new and the PSR device, however, and noted that it is also seen how important this kind of device. Prof. Dr. Nevzat Tarhan said, "When you say bioengineering, they would ask "What are you doing?" or they would ask this for Molecular Biology and Genetics. Now everyone is informed about this.
I think it is also very important for the awareness of the students who will decide. It was also understood how important investments to be made in this regard are. We have seen how necessary and important the most important investments in health, and in the production of medicines and devices that will serve the diagnosis treatment here are. It is very important to talk about Bioengineering, which is the science that builds that balance between engineering and biological sciences, as well as the production of all these vaccines."
"There will be more need for Bioengineers"
Prof. Dr. Nevzat Tarhan stated that bioengineering is a department that includes fields such as physics, chemistry, mathematics, neuroscience, and artificial intelligence. Tarhan said, that those who are trained in Bioengineering have areas of biological intervention, biological calculations, influencing genetic sequences, changing and working with all these. Therefore, it is important to explain Bioengineering by establishing its connection with bioinformatics. When it comes to bioengineering, it is wrong to consider it as a chemical development only. It is important to be able to make investments, produce proteins, produce antibodies, vaccines by combining chemical and biological information here. On the other hand, Neuroscience and artificial intelligence are part of bioengineering. For that, bioengineers need to take care of it. More software lessons need to be learned about this and to combine genetic science with neuroscience, even behavioral science. As a result of this merger, bioengineers will be needed more in the future. One of the things that the coronavirus outbreak teaches us, the most is that people in this area will be needed more."
"Previously, the investment in the arms industry was prioritized, now the investment in people is the priority"
Prof. Dr. Nevzat Tarhan emphasized that the corona epidemic is also important for thoracic surgery. Tarhan said, "We think they are far areas to each other, but there is spoken the only corona at Thoracic Surgery Congress. Because many of the innovations it has brought, brought different perspectives in medicine as well. May you have to ask the question; 'How does Coronavirus change what we do now?'. Because priorities have changed. In the world, investment in the arms industry and oil was a priority. But now the investment in health, in people, is a priority. One has the right to live healthy, to have access to treatment. In order to achieve these rights, new methods of diagnosis and treatment are needed. What good is it to humanity if again does not serve the comfort of man? It is important that power serves man. What should we prioritize in bioengineering? I think it's important to talk among bioengineers about how our next policies will be. There will be talks in the next few years that we need to change our importance and priorities accordingly."
COVID-19- and Bioengineering is spoken
8th Bio-engineering days brought also notable names together. Marmara University, Faculty of Engineering Prof. Dr. Dilek Kazan made a presentation on COVID-19 and Bioengineering. On the other hand; Bahçeşehir University Faculty of Medicine Department of Basic Sciences Dr. Bircan Dinç, while making his presentation on Calorimetric Techniques in the Biophysical Characterization", Tribor R & D Company Research and Development Expert Dr. Zulhice Tanrıseven shared about the issue of Boron in Health Applications as well.
Gene editing treatments for COVID-19 discussed
Beril Koparal, General Manager of the cosmetics company of NOTE, gave information about the career journey. While Dr. Lect. Member Turan Demircan from Muğla, Sitki Koçma University Faculty of Medicine Department of Basic Medical Sciences, made a presentation on the subject of "Successful spinal cord regeneration in metamorphic Axolotl: How is it possible?", Dr. Hamit Ekinci made a presentation on Plant Biotechnology. R&D Consultant at Acıbadem University LabCell Dr. Cihan Taştan shared about Gene Editing Therapies for COVID-19."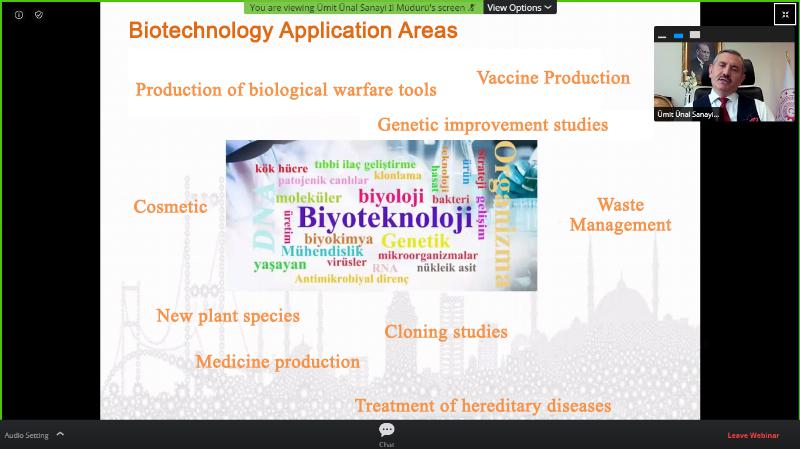 Ümit Ünal: "We should spread technology production from ages of 7 to 70 as a culture"
Ümit Ünal, Provincial Director of Istanbul Industry and Technology, made his presentation on biotechnology and bio-entrepreneurship. Unal, "We need to spread the technology production in Turkey from ages 7 to 70 as a culture. In particular, we need to provide some training such as science, engineering, technology, mathematics, coding, and algorithms."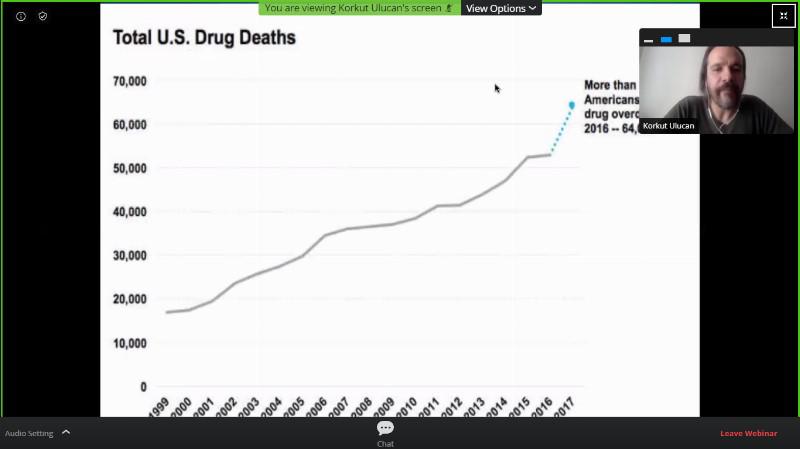 Assoc. Dr. Korkut Ulucan: "The age we are in, is a person customized age"
The last speaker of the program was Assoc. Dr. Korkut Ulucan from Uskudar University's Molecular Biology and Genetics Department. Assoc. Dr. Korkut Ulucan said, "The age we are in, is a personal age, a personal approach. Because the differences in genetic structure have now begun to make functional sense. With the outputs of the Human Genome Project, we can now interpret many events on the basis of disease, even on the basis of daily life, though if they are emotional states."
Üsküdar Haber Ajansı (ÜHA)