ORCID ID: 0000-0002-2220-1757
Research Fields
Digital Communication, Public Relations, Digital Game Studies
Short CV
Graduated from Gazi University Faculty of Communication Public Relations and Publicity in 2011. Completed her graduate studies in 2003 at Gazi University Institute of Social Sciences; Public Relations and Publicity with the thesis of "Public Relations as Perception Management". Enrolled at Gazi University Institute of Social Sciences; Public Relations and Publicity Doctorate program and finalized Doctorate program in 2008 with the thesis of "Evolotion of İmpacts of Privization on the Process of Management of the Organizations by the view of Governence: Erdemir T.A.Ş."
Education Status & Academic Titles
Supervised Graduate Theses
SİYASAL PAZARLAMANIN SEÇİM SONUÇLARINA ETKİSİ: 2018 CUMHURBAŞKANLIĞI SEÇİMİ, 2021.
RTÜK Uygulamalarının Etkinliğinin Nöropazarlama Açısın-dan Değerlendirilmesi: İnternet Yayıncılığında RTÜK Uygulamaları, 2021.
DİJİTALLEŞMENİN YAYINEVLERİ ÜZERİNDEKİ ETKİSİ, 2020.
Dijitalleşmenin müzik endüstrisine etkileri: Spotify örneği, 2019.
Oyun değer-dijital oyunlar ve kullanıcılar üzerine bir inceleme: To the moon örneği, 2018.
Türkiye'de reklam filmlerinde hikaye anlatıcılığı kullanımı: 2017 Kristal Elma Festivali örneği, 2018.
Academic Activities > Publications
(Other Scientific Publications) Toplam: 4
Academic Activities > Book - Book Chapter
Marka İletişimi ve Oyun Konsolları: Sony PlayStation 5 Reklam Stratejilerine Yönelik Oyuncular Üzerine Bir Araştırma, 2023.
8 BİT OYUNLARDAN GÜNÜMÜZE DİJİTAL OYUNLARDA MÜZİK, 2022.
DİJİTAL OYUNLARDA SANAL KURGUSAL CİNSELLİK, 2022.
Dijital Dünyada Halkla İlişkilerin Dönüşümü, Dijital Halkla İlişkilerde Hikaye Anlatıcılığı: Odeabank 'Eşit Masallar' Proje Değerlendirilmesi", 2021.
"OYUNUN İÇİNDE OLMAK" DİJİTAL OYUN- KULLANICI DENEYİMİ İLİŞKİSİNİN TWITCH ÜZERİNDEN DEĞERLENDİRİLMESİ, 2021.
Yeni Nesil Sosyal Sorumluluk Kavramının Değerlendirilmesi: Dijital Oyun Yayıncılığı ve Bağış Kültürü, 2021.
Dijital Oyunlar ve Hikayeler God of War Oyun Çözümlemesi, 2020.
Sosyal Medyada Dönüşen Marka İletişmi: Influencer Marketing (Hatırlı Pazarlama) Üzerine Bir Araştırma, 2019.
Enformasyon Aktarımının Üzerinde Tehdit Unsuru Olarak Reklam İletileri: "hurriyet.com.tr" Örneği, 2019.
Küreselleşmenin Örgütsel Boyutu ve Yönetişimin Çağrıştırdıkları, 2019.
Industrial Football and Public Relations: Emotional Attractiveness, Reputation and "Come To Beşiktaş", 2019.
Academic Activities > Editörlük
Etkileşim, ISSN:2636-7955, 2018.
Oyunların Dijital Hali, ISSN:, 2021.
Oyunların Dijital Hali 2, ISSN:, 2022.
Academic Activities > Congress - Conference Participation
6. CICMS, Kültürel Bilişim, İletişim ve Medya Konferansı, 2022.
Yeni Yüzyıl'da İletişim Kongresi, 2022.
Dijital Çağda Reklam Yönetimi: Yeni Yönelimler ve Stratejiler. Galatasaray Üniversitesi, Stratejik İletişim Yönetimi Konferansları -IV (GSÜSTRAT), 2021.
18th International Symposium "Communication in the Millennium", 2021.
8. Uluslararası İletişim Günleri, Dijital Çağda Kriz Yönetimi, 2021.
3rd International Conference on Innovative Studies of Contemporary Sciences, 2021.
Pearson Journal International Conference on Social Sciences and Humanities, 2021.
5. International Mardin Artuklu Scientific Researches Conference, 2021.
International PEGEM Conference on Education (IPCEDU), 2020.
5. International Mediterranean Social Sciences Congress (MECAS V), 2019.
International Media Studies, 2018.
Communication in the Digital Age, 2018.
Uluslararası Multidisipliner Akademik Çalışmalar Sempozyumu, IMASES, 2018.
Yeni Zamanlar ve Halkla İlişkiler Konferansı, 2018.
Administrative Activities
Ana Bilim Başkanı / Head of Department, Halkla İlişkiler ve Y.L. Programı, (2022 - Devam ediyor.)
Komisyon Üyesi / Member of Commission, Eğitim Komisyonu Üyeliği (Enstitü / Fakülte / MYO), (2021 - Devam ediyor.)
Kurul Üyeliği / Board Member, Merkez Yönetim Kurul Üyeliği, (2021 - Devam ediyor.)
Komisyon Üyesi / Member of Commission, Staj Komisyonu Üyeliği (Enstitü / Fakülte / MYO), (2021 - Devam ediyor.)
Komisyon Üyesi / Member of Commission, Kalite Komisyonu Üyeliği (Enstitü / Fakülte / MYO), (2021 - Devam ediyor.)
Komisyon Üyesi / Member of Commission, Akreditasyon Komisyonu, (2021 - Devam ediyor.)
Çalışma Grubu Koordinatörlüğü / Coordinator of Research Group, Toplum ve İletişim Çalışma Grubu, (2020 - Devam ediyor.)
Öğrenci Danışmanlığı / Student Adviser, 1-10 Öğrenci Danışmanlığı, (2020 - Devam ediyor.)
Bölüm Başkanlığı / Head of Department, Halkla İlişkiler, (2016 - Devam ediyor.)
Kurul Üyeliği / Board Member, Fakülte Kurulu Üyeliği, (2016 - Devam ediyor.)
Komisyon Üyesi / Member of Commission, Başarı Ölçme ve Değerlendirme Komisyonu Üyeliği (Enstitü / Fakülte / MYO), (2016 - Devam ediyor.)
Koordinatör / Coordinator, Bologna Bölüm Koordinatörlüğü, (2016 - Devam ediyor.)
Education and Training Activities
Uluslararası İletişim ve Halkla İlişkiler (Yaz Okulu), (Undergraduate Degree /

2021-2022 Bahar

)
Üniversite Kültürü II, (Undergraduate Degree /

2021-2022 Bahar

)
Mezuniyet Projesi II, (Undergraduate Degree /

2021-2022 Bahar

)
Örgütsel Davranış, (Undergraduate Degree /

2021-2022 Bahar

)
Örgütsel Davranış, (Undergraduate Degree /

2021-2022 Bahar

)
Staj, (Undergraduate Degree /

2021-2022 Bahar

)
Halkla İlişkiler ve Sosyal Medya, (Undergraduate Degree /

2021-2022 Bahar

)
Halkla İlişkilere Giriş, (Undergraduate Degree /

2021-2022 Bahar

)
İletişime Giriş, (Undergraduate Degree /

2021-2022 Güz

)
Mezuniyet Projesi I, (Undergraduate Degree /

2021-2022 Güz

)
Sağlık Kurumlarında Halkla İlişkiler Uygulamaları, (Undergraduate Degree /

2021-2022 Güz

)
Halkla İlişkiler Kampanyaları I, (Undergraduate Degree /

2021-2022 Güz

)
Etkili İletişim ve Sunum Teknikleri, (Undergraduate Degree /

2021-2022 Güz

)
BM Sürdürülebilir Kalkınma Hedef Etiketleri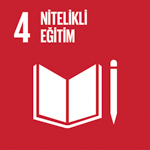 * ISI Web of Science Core Collection
Science Citation Index
Arts & Humanities Citation Index
Science Citation Index Expanded
Social Sciences Citation Index
Emerging Sources Citation Index