Short CV
No resumes have been created yet.
Education Status & Academic Titles
Supervised Graduate Theses
Soğuk Savaş sonrasında Türkiye-Türk Cumhuriyetleri ilişkilerinin entegrasyon teorileri çerçevesinde, 2022.
Academic Activities > Publications
(Other Scientific Publications) Toplam: 2
Academic Activities > Book - Book Chapter
Bölüm Uyuşmazlıkların Çözüm Paradigmalarındaki Düşünsel Dönüşüm ve Barış Eğitimi, 2022.
The Second Karabakh War and Its Results in the Context of the Changing Dynamics of Turkish Foreign Policy, 2022.
Academic Activities > Editörlük
Küresel Güç Oyunu, ISSN:, 2021.
Academic Activities > Congress - Conference Participation
Türkiye-Çin İlişkileri Sempozyumu, 2021.
Global Diplomacy Network, 2021.
Administrative Activities
Merkez Müdürü / Head of Resarch Center, PPM, (2022 - Devam ediyor.)
Bölüm Başkanlığı / Head of Department, Siyaset Bilimi ve Uluslararası İlişkiler (İngilizce), (2020 - Devam ediyor.)
Education and Training Activities
BM Sürdürülebilir Kalkınma Hedef Etiketleri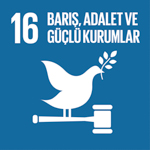 * ISI Web of Science Core Collection
Science Citation Index
Arts & Humanities Citation Index
Science Citation Index Expanded
Social Sciences Citation Index
Emerging Sources Citation Index