ORCID ID: 0000-0003-4672-2378
Research Fields
Exercise Physiology, Training, Physiology, Athlete health, Physical fitness and Exercise
Short CV
Deniz Demirci graduated from Karadeniz Technical University, Faculty of Arts and Sciences, Department of Biology in 1990. She continued her academic and administrative studies at the Faculty of Physiology of Karadeniz Technical University between 1990-1995 and at Kocaeli University Faculty of Sport Sciences between 2001-2018. Demirci, who received the title of Associate Professor of Sports Sciences in September 2015, continued his duty as the head of the department at Istanbul Bilgi University, Faculty of Health Sciences, Department of Occupational Therapy between February 2018 and 2021.
As of March 2021, he continues his academic studies as Professor in the Department of Occupational Therapy at Üsküdar University, Faculty of Health Sciences, and also serves as the Head of the Department of Physiotherapy and Rehabilitation.
Numerous scientific studies presented at national and international congresses; an article published in national and international journals; There are book chapters. She has supervised many master's and doctoral theses and worked on scientific projects.
Education Status & Academic Titles
Supervised Graduate Theses
Kronik Bel Ağrılı Bireylerde, Statik ve Dinamik Postür Analizi Değerlendirilmesi, 2023.
Obez kadınlarda mat ve reformer pilatesin kas iskelet sistemi şikayetleri,vücut kompozisyonu ve yaşam kalitesine etkisinin karşılaştırılması, 2023.
Okçularda Skapula Proprioseptif Nöromüsküler Fasilitasyon Tekniğinin Atış Perfomansı Üzerine Etkisi, 2023.
Servikal disk herniasyonu olan hastalarda rijit bantlamanın ağrı ve eklem hareket açıklığı üzerine akut etkisinin değerlendirilmesi, 2023.
Adölesan İdiopatik Skolyozlu Bireylerde Korse Kullanımının Baş-Boyun Pozisyonu, Servikal Sagital Parametreler,Sagital Denge, Deformite Algısı ve Korse Stresi Üzerine Etkisi, 2023.
ÖZEL GEREKSİNİMLİ ÇOCUKLARIN FİZİKSEL DİNAMİK DESTEK VE DUYUSAL GERİ DÖNÜT SAĞLAYAN ADAPTİF MOBİLİTE CİHAZINDA NELER YAPABİLDİKLERİNİN İNCELENMESİ, 2023.
TABANCA TAŞIYAN BİREYLERDE TABANCA TAŞIMANIN BEL AĞRISI VE UYKU KALİTESİ ÜZERİNE ETKİLERİNİN ARAŞTIRILMASI, 2023.
Özel Gereksinimli Çocuklarda Duyu Bütünleme Terapisinin Duyusal İşlemleme ve Davranış Problemleri Üzerine Etkisinin İncelenmesi, 2022.
'HEMİPLEJİK SEREBRAL PALSİLİ ÇOCUKLARDA SERAMİK SANATININ VE DUYU BÜTÜNLEME TERAPİSİNİN EL BECERİLERİNE ETKİSİNİN İNCELENMESI'', 2022.
Hemiplejik Hastalarda Kavrama gücü ve Nine Hole Peg Testi Sonuçlarının Günlük Yaşam Aktiviteleri i ile ilişkisinin Değerlendirilmesi, 2022.
Hemiplejik Bireylerde Ortez Kullanımına Bağlı Ayak Taban Basınç Sistemi İle Yere Temas Süresinin Değerlendirilmesi, 2022.
FİBROMİYALJİLİ BİREYLERDE TEMPOROMANDİBULER EKLEM DİSFONKSİYONU İLE BAŞ POSTÜRÜ, SERVİKAL AĞRI, SERVİKAL DERİN FLEKSÖR KAS ENDURANSI,KİNEZYOFOBİ,YAŞAM KALİTESİ VE ANKSİYETE İLİŞKİSİ, 2022.
COVID-19'a Bağlı Psikolojik Sıkıntının Ruhsal Belirtiye Dönüşmesinin Algılanan Sosyal Destek Bakımından İncelenmesi ve Çocukluk Çağı Travmalarının BUNA Etkisi. Trauma and Disaster Mental Health / Travma ve Afet Çalışmaları Uygulamalı Ruh Sağlığı., 2021.
Covıd-19 Döneminde Çocuklara Yönelik Grup Temelli Yapılandırılmış Uzaktan Psikososyal Destek Programının Etkililiğinin Araştırılması, 2021.
Academic Activities > Publications
(ISI Web of Science Core Collection *) Toplam: 2
Academic Activities > Publications
(Other Scientific Publications) Toplam: 7
Academic Activities > Book - Book Chapter
Fizik Tedavi ve Rehabilitasyonda Balneoterapi, 2021.
Süreğen Hastalıklarda Egzersiz. İnme Hastalarında Egzersiz., 2020.
Academic Activities > Congress - Conference Participation
7. PEDİATRİK REHABİLİTASYON KONGRESİ, 2023.
GEVHER NESİBE 10. ULUSLARARASI SAĞLIK BİLİMLERİ KONGRESİ, 2023.
7. ULUSLARARASI SAĞLIKLI YAŞAM KONGRESİ, 2022.
7. ULUSLARARASI SAĞLIKLI YAŞAM KONGRESİ, 2022.
7. ULUSLARARASI SAĞLIKLI YAŞAM KONGRESİ, 2022.
Administrative Activities
Ana Bilim Başkanı / Head of Department, Fizyoterapi ve Rehabilitasyon, (2021 - Devam ediyor.)
Bölüm Başkanlığı / Head of Department, Fizyoterapi ve Rehabilitasyon, (2021 - Devam ediyor.)
Merkez Müdürü / Head of Resarch Center, ÜSFİZYOTEM, (2021 - Devam ediyor.)
Öğrenci Danışmanlığı / Student Adviser, 100 -150 Öğrenci Danışmanlığı, (2021 - Devam ediyor.)
Koordinatör / Coordinator, Erasmus Bölüm Koordinatörlüğü, (2021 - Devam ediyor.)
Education and Training Activities
Genel Fizyoterapi Rehabilitasyonda Klinik Çalışma (Yaz Okulu), (Undergraduate Degree /

2021-2022 Bahar

)
Romatolojik Rehabilitasyonda Klinik Çalışma (Yaz Okulu), (Undergraduate Degree /

2021-2022 Bahar

)
Geriartrik Rehabilitasyonda Klinik Çalışma (Yaz Okulu), (Undergraduate Degree /

2021-2022 Bahar

)
Spor Rehabilitasyonunda Klinik Çalışma (Yaz Okulu), (Undergraduate Degree /

2021-2022 Bahar

)
Kardiyopulmoner Rehabilitasyonda Klinik Çalışma (Yaz Okulu), (Undergraduate Degree /

2021-2022 Bahar

)
Pediatrik Rehabilitasyonda Klinik Çalışma (Yaz Okulu), (Undergraduate Degree /

2021-2022 Bahar

)
Ortopedik Rehabilitasyonda Klinik Çalışma (Yaz Okulu), (Undergraduate Degree /

2021-2022 Bahar

)
Nörolojik Rehabilitasyonda Klinik Çalışma (Yaz Okulu), (Undergraduate Degree /

2021-2022 Bahar

)
İnsan Fizyolojisi II, (Undergraduate Degree /

2021-2022 Bahar

)
İnsan Fizyolojisi II, (Undergraduate Degree /

2021-2022 Bahar

)
Üniversite Kültürü II, (Undergraduate Degree /

2021-2022 Bahar

)
Seminer, (Master /

2021-2022 Bahar

)
Genel Fizyoterapi Rehabilitasyonda Klinik Çalışma, (Undergraduate Degree /

2021-2022 Bahar

)
Romatolojik Rehabilitasyonda Klinik Çalışma, (Undergraduate Degree /

2021-2022 Bahar

)
Protez Ortez Rehabilitasyonunda Klinik Çalışma, (Undergraduate Degree /

2021-2022 Bahar

)
İnsan Fizyolojisi I, (Undergraduate Degree /

2021-2022 Güz

)
İnsan Fizyolojisi I, (Undergraduate Degree /

2021-2022 Güz

)
Kardiopulmoner Anatomi ve Fizyoloji, (Master /

2021-2022 Güz

)
Solunum ve Dolaşım Fizyolojisi, (Undergraduate Degree /

2021-2022 Güz

)
Seminer, (Master /

2021-2022 Güz

)
Fizyoterapi ve Rehabilitasyonun Temel İlkeleri, (Undergraduate Degree /

2021-2022 Güz

)
BM Sürdürülebilir Kalkınma Hedef Etiketleri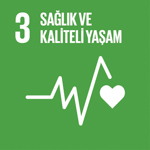 * ISI Web of Science Core Collection
Science Citation Index
Arts & Humanities Citation Index
Science Citation Index Expanded
Social Sciences Citation Index
Emerging Sources Citation Index