ORCID ID: 0000-0002-5386-0624
Research Fields
Geropsychiatry, Nursing, Innovation, Psychiatric Nursing, Simulation
Short CV
Aydan AKKURT YALCİNTURK graduated from Kastamonu University, School of Health, Department of Nursing in 2011. She completed her master's degree at HaliÇ University Nursing Department Psychiatric Nursing Program in 2014. YALCİNTURK graduated from the Department of Psychiatric Nursing Doctorate Program at the University of Health Sciences in 2022 and received the title of doctor. In 2022, at Üsküdar University, She started to work as a faculty member with the title of Ass.Dr. in the Faculty of Health Sciences, Nursing Department.
Education Status & Academic Titles
Academic Activities > Publications
(ISI Web of Science Core Collection *) Toplam: 1
Academic Activities > Congress - Conference Participation
6. Uluslararası Hemşirelik ve İnovasyon Kongresi, 2022.
BM Sürdürülebilir Kalkınma Hedef Etiketleri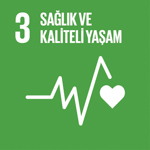 * ISI Web of Science Core Collection
Science Citation Index
Arts & Humanities Citation Index
Science Citation Index Expanded
Social Sciences Citation Index
Emerging Sources Citation Index