Competent Molecular Biologists Needed in All Fields Concerning Health
What is Molecular Biology (English) Master's Program?
Molecular Biology is a branch of science that studies biology as a concept at the molecular level. Molecular biology and genetics; It examines areas such as diagnosing diseases, investigating the cause of disease, predetermining the molecular mechanisms that cause any physical problem.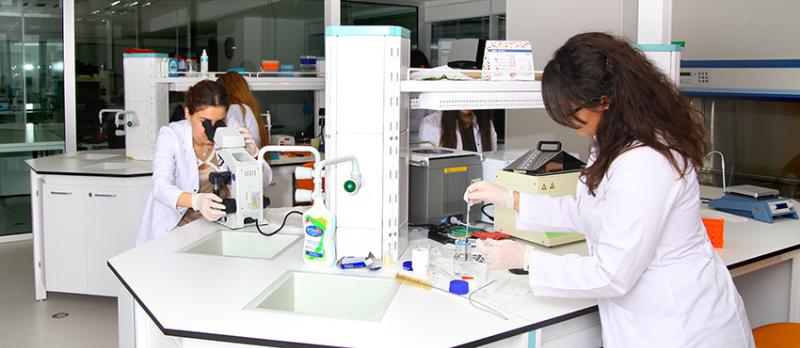 Molecular Biology (English) Master's Program aims to train high molecular biologists, needing qualified academic staff with advanced analysis and synthesis skills, professional competence.
What are the Courses Taken in the Molecular Biology Master's Program?
Within the scope of this program, there are compulsory courses that students must take. In addition, there is a wide curriculum for the target areas of the students.
In addition to the molecular biology and genetics research laboratory, students in the Üsküdar University Molecular Biology Master's Program in order to apply their theoretical knowledge in practice, in addition to the microbial biotechnology research laboratory, neuropsychology and psychology laboratories, brain imaging (neuroscience) laboratories, electrophysiological imaging laboratory, radiodiagnostic imaging laboratory, clinical biochemistry and uses toxicology laboratory, clinical pharmacogenetics laboratory, brain stimulation laboratories.
Who Can Apply to the Molecular Biology Master's Program?
Students who have graduated from the biology, medicine, pharmacy, veterinary and psychology departments of universities can apply to the master's program.
In order to graduate from the master's program, it is necessary to collect at least 21 credits in two years, that is, in 4 semesters. Students have the opportunity to practice by participating in the studies carried out in the laboratory. Before applying to the Master's Program, it is possible to choose advisor faculty members. In addition, after the collection of credits, they can choose their advisor faculty members.

What are the Working Areas of Molecular Biology Master's Graduates?
Graduates of this program can work in fields such as behavioral and addiction genetics, clinical genetics, plant genetics, and microbial genetics. In addition, he is employed as a researcher and academician in plant and bacterial biotechnology, industrial agriculture, pharmaceutical companies designing personalized drugs, forensic medicine laboratories, private diagnostic laboratories, public hospital genetics laboratories, private or state universities.