What is Bioengineering Master's Degree Program?
The aim of the MSC program with thesis and non-thesis in bioengineering has gained the ability to follow the developments in the field and possess the theoretical and technological requirements and equipment related to the field and absorb the pleasure of learning to educate researchers focused on teaching.
Therefore, high bioengineers are needed in the research and development departments of organizations that are concerned with human and environmental health. The aim of the Bioengineering Master's Program is mainly to provide the necessary knowledge to the individuals who will conduct research in technological sense, to meet the needs of qualified academic staff in our country and abroad and to contribute to the training of high bioengineers who can lead the studies that will be done besides this.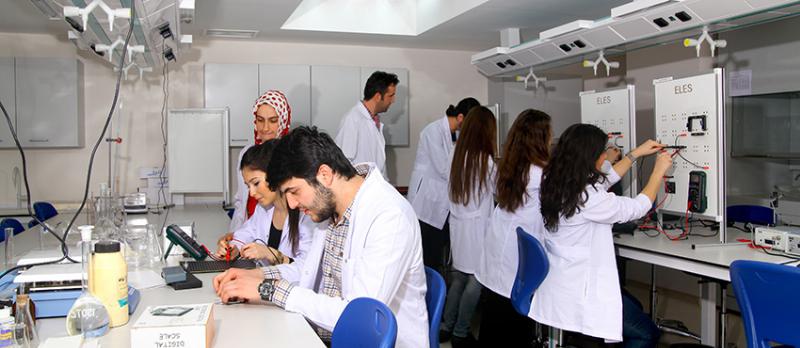 What are the areas of working for the graduates of Bioengineering Master's Degree Program?
Individuals who complete the master's program will be able to work in fields such as medicine, environment, agriculture, agricultural and biomedical industries as well as industrial bioengineering environment, pharmaceutical companies, forensic laboratories, special diagnostic laboratories, state hospital genetic laboratories, private or state universities, researchers and academicians. Under the graduate program, students are encouraged to contribute to the industry by encouraging them to build their own bioengineering companies to implement their innovative projects, and this is expected to contribute to the development of bioengineering sector in Turkey.
What are the course in Bioengineering Master's Degree Program?
For this purpose, in the graduate program, a wide range of curriculum has been developed for the students to choose the necessary courses, for the students to learn the basic information and the elective courses such as Nanobioengineering, Mathematical Methods in Bioengineering, Cancer Bioengineering, Bioprocess Engineering which are suitable for the field they want to work and to be able to complete both the basic knowledge and the information about the desired field. Bioengineering laboratory, clinical biochemistry and toxicology laboratory, clinical pharmacogenetics laboratory, neuropsychology and psychology laboratories, neuroimaging laboratories, electrophysiological imaging laboratory, radiodiagnostic imaging laboratory, brain stimulation laboratories are also included in the program, which students can practically apply the theoretical knowledge they have obtained in practice.
Who can Apply to Bioengineering Master's Degree Program?
The program is designed to provide students with the opportunity to study at universities related to biology, molecular biology and genetics, health sciences, medicine, pharmacy, veterinary medicine, mathematics, physics, chemistry, psychology, nursing, material engineering, chemical engineering, mechanical engineering, electrical and electronics engineering, and graduates of chemical engineering, genetics and bioengineering, bioengineering, etc., will be able to apply.