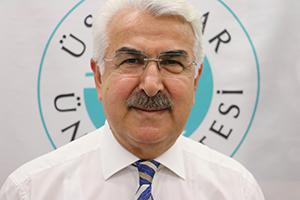 Dear my students,
You can be proud of being a member of Üsküdar University, I congratulate you. All the facilities are established for your better education. We are here because you are here.
The eight departments of Health Science Faculty are at the place of historical Üsküdar ,Bazaar Campus where the transportation is very easy, the other five departments are placed in South Campus. It means that 2018-2019 undergraduate education is given with thirteen departments. Higher Education Board give permission for the education of a lot of departments that we have in our universty. These are;
Audiology
Child Development
Healthcare Management
Midwifery
Nursing
Nutrition and Dietetics
Occupational Health and Safety
Occupational Therapy
Orthosis and Prosthetiss
Perfusion
Physiotherapy and Rehabilitation
Social Work
Speech and Language Therapy.
As it is seen, our faculty aimed to raise qualified members for all health areas in accordance with the needs of our country. We believe that our society will be satisfied. The positive developments and achievements in the field of health for more than ten years have put this issue forward. It is obvious that it is necessary to educate the personnel who can use the new technological developments and have good communication with the patients. This year we continue our education with approximately 3400 students with faith and perseverance.
We receive the informations concerning satisfactions of hospitals and departments that provide health services about our graduated students' work. We are extremely happy because of these satisfactions.These results are very important for the future of our university and our students.
In addition to qualified theoretical education, Üsküdar University Faculty of Health Sciences also benefits from; its own laboratories for applications, NP Hospitals and Polyclinics serving ın the structure of Üsküdar University and potentiality of some University Hospitals ,Public Education and Research Hospitals in Istanbul.
Dear students,
You can make Double Majör Programme (DMP) in parallel with the other undergraduate programs as well as you can make DMP in our university's Vocational school of health services' associate programmes . This will be very easy for you and you will have one more diploma. Because our University's Vocational School of Health Services have 18 evening education programmes. Our students that have daytime education will be able to do DMP in evening education without extra payment.
In addition, the families of our students should also know that ; Üsküdar University have a compassionate management that deals with the special problems of the students. With its electronic infrastructure, libraries and social facilities, it is a very important institution in its region. Üsküdar University has become the Shining Star of Istanbul.
I sincerely greet our graduates and all our students; I wish everyone success.
Prof.Dr.Şefik DURSUN