Event information
---
Start date : 16 Haziran 2022, 09:00:00
End date : 19 Haziran 2022, 17:00:00

Event information

Start date : 16 June 2022, 09:00:00

End date : 19 June 2022, 17:00:00

Important Dates
Conference Date: June 16-19, 2022
Abstract Submission Deadline: May 10, 2022
Early Registration: May 18, 2022
Üsküdar Üniversitesi, İSTANBUL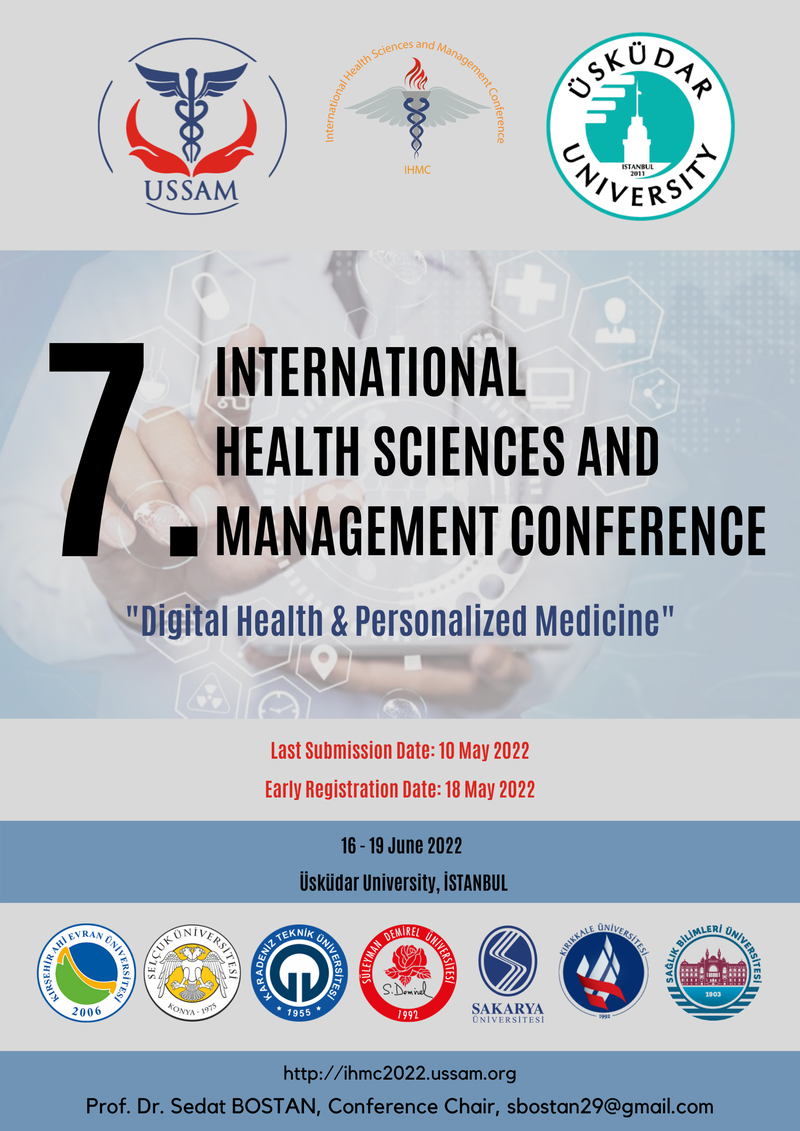 Dear 7th International Health Sciences and Management Conference Participants,
In the last two years, there has been a radical shift in health-related paradigms. The fact that infectious diseases, which were thought to be left behind for developed countries, are again on the agenda of the world for a long time, shows that humanity will continue to pass such tests from time to time.
First of all, the COVID-19 pandemic has tested health systems, reminding us of the need to be prepared when unusual health problems arise and the importance of crisis management skills. In addition, we have observed closely in this process that the fight against epidemics, in particular, and all kinds of diseases, in general, is not only considered in the axis of the patient and the health care system but also has economic, political, and social aspects.
It has always been technology that steers the periods of change and transformation. With COVID-19, the importance of health technologies has increased, digitalization has come to the fore in health services, as in all areas, and everything has begun to be redesigned according to information and communication technologies. On the other hand, it is seen that the developments in medical technology and diseases have different effects on each person, and the solution is moving to the point of producing personalized solutions rather than categorical evaluations.
For these reasons, we have determined the main theme of this year's congress as "Digital Health & Personalized Medicine". To create scientific knowledge on the subject, the theme of "Digital Health & Personalized Medicine" will be discussed in detail in the panels and sessions of our congress by experts from Turkey and abroad. We expect your scientific studies that are directly or indirectly related to the "Digital Health & Personalized Medicine" theme.
The congress aims to lay the groundwork for the international sharing of scientific knowledge, skills, and experiences ranging from local to global in the fields of health management and health institution management. At the same time, the congress aims to bring together scientists, especially young researchers, policymakers, practitioners, and managers from different countries, to provide global information sharing, emphasize the importance of health management, and contribute to the professional professionalization of health management globally.
Our congress will be held in Istanbul, hosted by Üsküdar University, between June 16-19, 2022. Participants will be provided with the opportunity to participate in the congress both physically and digitally. In addition to the main theme of the congress, "Digital Health & Personalized Medicine" we look forward to your studies in health sciences and management.
Your participation in our congress will honor us. With our best wishes.
Best wishes…
Created Date : 14 Aralık 2022