What is Biomedical Device Technology Program?
Today, approximately twenty thousand different types of medical devices and systems are used in hospitals. The need for personnel with technical and scientific knowledge to carry out the design and development of biomedical systems and to take part in the efficient use of systems is increasing day by day.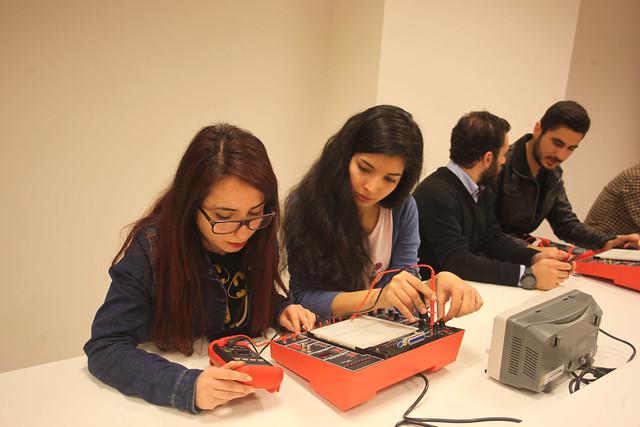 Biomedical Device Technology Program aims to train technical personnel who will install tools and devices used in medicine and biological sciences in accordance with their schemes, maintain them continuously, locate and repair them in case of malfunction.
Features Required to be a Biomedical Device Technician
Those who want to be a Biomedical Device Technician are expected to be successful in the field of science, to be interested in tools and machines, and to be able to use their hands and fingers skillfully, to perceive mechanical and shape relations, to have strong eyesight and hearing organs, to enjoy helping people, and to have a strong sense of responsibility.
The title of "Biomedical Device Technician" is given to those who have completed the Biomedical Device Technology Program. The Biomedical Device Technician fixes the instruments and devices used in medicine and biological sciences in accordance with their schematics, by assembling them in their places and by making continuous maintenance, by locating them when there is a malfunction. Biomedical Device Technicians work in public and private hospitals, laboratories, dispensaries, medical device factories, medical equipment repair and maintenance workshops or services. For this reason, their working environments differ according to the workplace they work in, but they generally work in communication with doctors, nurses and other hospital personnel.
What are the Courses Taken in the Biomedical Device Technology Program?
Introduction to Biomedical Technology, Direct Current Circuit Analysis, Electronics Components and Measuring Technique, Basic Anatomy And Physiology, Basic Mathematics, Alternative Current Circuit Analysis, Failure Analysis And Troubleshooting, Biochemistry, Biomedical Mathematics, Digital Electronics, Physiological Signal Viewers, First Aid, Medical Imaging Devices, Medical Anaysis and Laboratory Devices, Life Support and Operating Room Devices, Hospital Organisation, Microcontrollers, Biological Hazards in Medical Devices, Establishing Quality Management Systems On Medical Devices, Test, Control And Caibration of Medical Devices, Summer Internship, Entrepreneurship and Project Culture, Career Planning and Professional Competencies.