We are on the same platform as the World's Respected Universities in Education
Uskudar University, which allows its students to follow their courses continuously, with its distance education programs among the Pandemic, opens also platforms with courses from universities around the world such as MIT, Stanford, and Harvard to its students. Nowadays, where the importance of digital access is growing, students can access nearly 7,000 online educational content on two major online platforms around the world, such as Coursera and Edx, and listening to the lessons they want.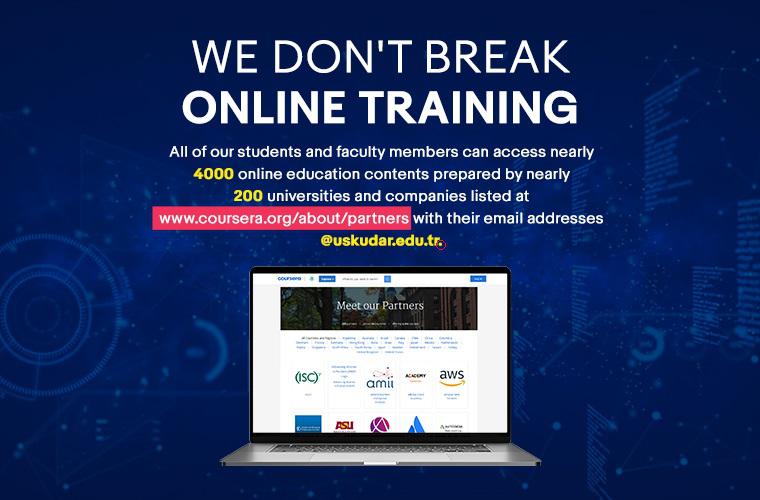 Uskudar Üniversity
, participates in the world's leading online education platforms, allowing its students to develop themselves in many areas. Uskudar University, which has achieved great success with its strong infrastructure and remote education module created by professional teams, collaborates with Coursera and edX, online education platforms with more than 200 known universities and companies all over the world. Thanks to this cooperation, students of Üsküdar University can receive free training by attending classes prepared by trainers of universities such as Stanford, Harvard, MIT, and global brands such as Google and IBM.
Gets educated worldwide with Coursera
Üsküdar University can participate in online courses with its collaboration with the world's leading online education platform Coursera, can access courses prepared by high-level trainers of universities and global companies such as Yale, Michigan, and Stanford, and can certify their education by taking package trainings. Students of Üsküdar University can use this platform free of charge with their university e-mail addresses.
With the joint platform of Harvard and MIT universities, Edx is the MOOC (Massive Open Online Courses) platform, which provides online higher education course contents in collaboration with MIT and Harvard Universities, and students of Üsküdar University can access over 2500 prepared content.
Students of Üsküdar University can take online courses, from the world's leading universities and prestigious institutions in many fields, such as health sciences, engineering, and psychology with the edX platform.
You can find our trainings via the link:
https://www.coursera.org/programs/uskudar-university-on-coursera-krvlc
Üsküdar Haber Ajansı (ÜHA)