ORCID ID: 0000-0002-5873-7270
Research Fields
Natural language processing , Linguistics
UN Sustainable Development Goal Labels Matching with Research Fields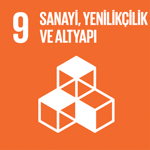 Short CV
No resumes have been created yet.
Education Status & Academic Titles
Academic Activities > Publications
(Other Scientific Publications) Toplam: 2
Academic Activities > Book - Book Chapter
METİN MADENCİLİĞİ İLE DOKÜMAN DEMETLEME, 2022.
Academic Activities > Congress - Conference Participation
ICAR 8. Uluslararası Akademik Araştırmalar Kongresi, 2022.
21st Annual Conference Of The European Association For Machine Translation, 2018.
Proceedings of the Eleventh International Conference on Language Resources and Evaluation (LREC 2018), 2018.
Administrative Activities
Öğrenci Danışmanlığı / Student Adviser, 91-100 Öğrenci Danışmanlığı, (2023 - Devam ediyor.)
Koordinatör / Coordinator, Erasmus Bölüm Koordinatörlüğü, (2023 - Devam ediyor.)
Education and Training Activities
Programlamaya Giriş, (Master /

2022-2023 Güz

)
Computer Communications, (Master /

2022-2023 Güz

)
Graduation Project, (Undergraduate Degree /

2022-2023 Güz

)
Introduction to Computer Engineering, (Undergraduate Degree /

2022-2023 Güz

)
Introduction to Computer Engineering, (Undergraduate Degree /

2022-2023 Güz

)
Bilgisayar İletişimleri, (Master /

2022-2023 Güz

)
Algoritmalar ve Programlama, (Master /

2022-2023 Güz

)